New £1.2m bin lorry fleet hits streets of Aberdeen – Press and Journal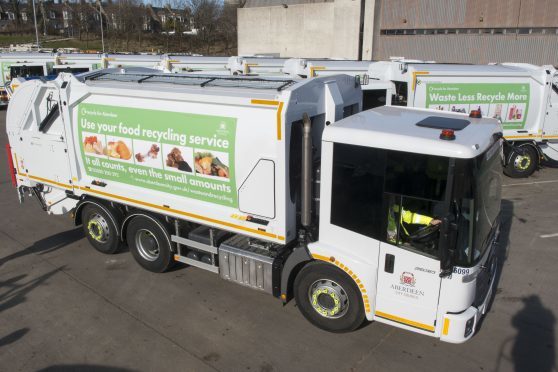 03/03/17 New Mercedes Rufuse trucks with Recycle branding
A ?1.2 million fleet of eight bin lorries took to the streets this week as changes to Aberdeen's waste and recycling services got underway. As of last Monday, all refuse, garden waste and recycling collection routes have changed and householders should now be using their new collection calendars. New general waste bins are also being delivered across the city at a rate of around 2,000 per day.
The existing refuse bins will then be re-designated as mixed recycling bins which will replace the current box and bag service.
Infrastructure vice-convener Gordon Graham said: "We have invested ?1.2 million in the new fleet as part of our huge commitment to achieving our zero waste ambitions and statutory obligations.
"This week, the council leader [Jenny Laing] visited the new ?27million Materials Recycling Facility and we are delivering 70,000 new general waste bins across the city as we gear up for a greener Aberdeen".
Register for our free newsletter
[1]
More from the Press and Journal

References

^ Register for our free newsletter (www.pressandjournal.co.uk)