Police arrest driver of 44-ton lorry on suspicion of being nearly FIVE times the drink-drive limit
Advertisement
The truck driver was arrested by police in Devon on suspicion of drink driving
Police claim that the reading showed he was nearly five times the legal limit
The officers said: 'He blew nearly five times the limit.

So lucky nobody was killed'
|
Police arrested the driver of a 44 tonne truck on suspicion of drink driving – claiming he was nearly five times the drink drive limit after a drive from Wales to Devon.
The officers said: 'He blew nearly five times the limit.
So lucky nobody was killed.'
The driver was arrested for drink driving on the A38 in Devon 'after coming down from Wales', said police.
He remained in custody on Saturday until he was fit to leave the police station.
The driver of a 44 tonne truck was arrested after police claim he blew five times the drink drive limit
Sunderland was the UK's drink and drug driving capital in 2017, closely followed by Truro in Cornwall, according to statistics.
Analysis of more than 7 million insurance quotes by comparison MoneySuperMarket has revealed which locations have the most drivers with over-the-limit convictions on their licence in the last 12 months.
According to the research, nearly three (2.91) in every 1,000 Mackem drivers have a drink or drug driving conviction on their their licence – an increase of 1.3 compared to last year.
Truro in Cornwall (2.6) and Coventry (2.53) follow in second and third place, with all three areas entering the top 10 for the dishonourable driving offences for the first time.
Advertisement
Sorry we are not currently accepting comments on this article.
Advertisement
Advertisement
References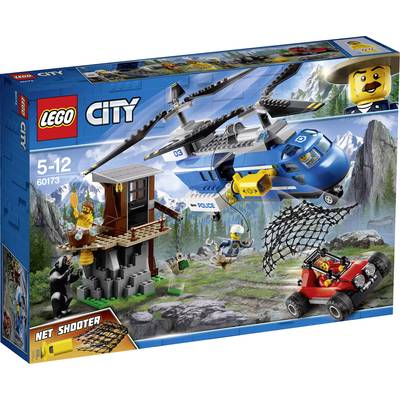 Hop in the police helicopter and prepare to make a LEGO® City 60173 Mountain Arrest! Look, there in that opening. Is that a crook… in the tub?! Load the net shooter while you hover over the hideout and the other police officer rappels down beside the surprised crook. Go a bit lower and aim the net at the other crook trying to escape in the buggy. Oh no, watch out for that hungry bear looking for honey!Pick up your badge and join the police officers as they make a LEGO® City 60173 Mountain Arrest! This cool chinook helicopter building toy for 5-12 year olds features a police helicopter with opening cab, double spinning rotors, opening door on the back, net shooter, winch with string and hook, 2-level hideout with opening door, bathtub, beehive and post with crane and chain, plus a crook's escape buggy with space for loot. Includes 4 minifigures and a bear figure. - More Info - EAN: 5702016077544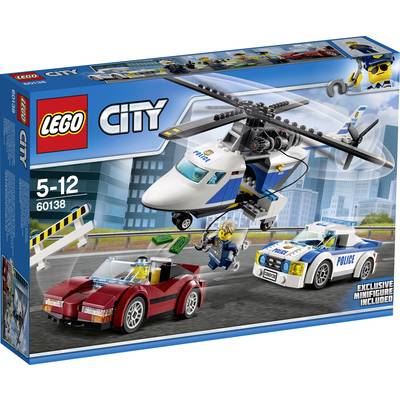 Red alert! The crook has stolen money and gold and is racing out of town in a stolen sports car. Hop in the police pursuit car and chase after him! If he's too fast, call in the police helicopter. Lower Chase McCain down using the winch and help him make the arrest! It's a thrilling day on the job with the LEGO® City police!Be part of the action with the LEGO® City police as they call in Chase McCain to help stop the crook escaping with the loot in the stolen sports car. This set features a police helicopter with spinning rotors and a lowering winch with hook, police pursuit car, stolen sports car and a barrier. Includes 4 minifigures. - More Info - EAN: 5702015865258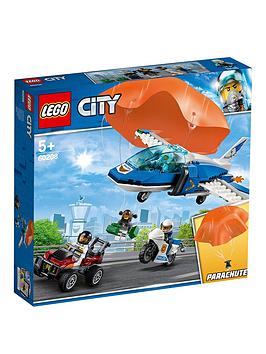 Hook the crook before he gets away in an exciting Sky Police Parachute-based toy set! Suit up with the LEGO® City Sky Police force and be part of the fast-paced action! Look at that, what's that red dot in the sky? It's the crook, parachuting down to his partner in the getaway buggy! Jump into the high-speed police jet, take off and extend the hook to catch him before he floats away, while your partner chases after the buggy on his motorbike! Depth: 20 CM Height: 7 CM Width: 22 CM Includes 4 LEGO® City minifigures: 2 Sky Police officers and 2 crooks. Features a high-speed Sky Police jet with opening minifigure cockpit and extending hook. Accessory elements include a pilot's helmet with opening visor and oxygen mask, handcuffs, 2 backpacks and 2 money bags. Toss the parachute toy into the air and try to catch it with the jet's extending hook. Sky Police Jet measures over 2" (7cm) high, 8" (22cm) long and 7" (20cm) wide. Crook's parachute toy measures over 11" (29cm) high and 7" (20cm) wide. Crook's getaway buggy measures over 1" (4cm) high, 3" (9cm) long and 1" (4cm) wide. - More Info - EAN: 5702016369779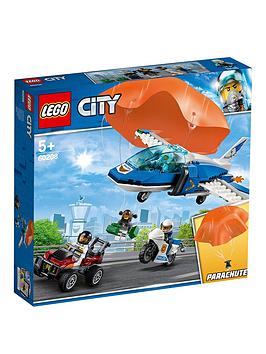 Hook the crook before he gets away in an exciting Sky Police Parachute-based toy set! Suit up with the LEGO® City Sky Police force and be part of the fast-paced action! Look at that, what's that red dot in the sky? It's the crook, parachuting down to his partner in the getaway buggy! Jump into the high-speed police jet, take off and extend the hook to catch him before he floats away, while your partner chases after the buggy on his motorbike! Depth: 20 CM Height: 7 CM Width: 22 CM Includes 4 LEGO® City minifigures: 2 Sky Police officers and 2 crooks. Features a high-speed Sky Police jet with opening minifigure cockpit and extending hook. Accessory elements include a pilot's helmet with opening visor and oxygen mask, handcuffs, 2 backpacks and 2 money bags. Toss the parachute toy into the air and try to catch it with the jet's extending hook. Sky Police Jet measures over 2" (7cm) high, 8" (22cm) long and 7" (20cm) wide. Crook's parachute toy measures over 11" (29cm) high and 7" (20cm) wide. Crook's getaway buggy measures over 1" (4cm) high, 3" (9cm) long and 1" (4cm) wide. - More Info - EAN: 5702016369779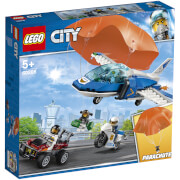 Suit up with the LEGO® City Sky Police force and be part of the fast-paced action! Look at that, what's that red dot in the sky? It's the crook, parachuting down to his partner in the getaway buggy! Jump into the high-speed police jet, take off and extend the hook to catch him before he floats away, while your partner chases after the buggy on his motorbike! Features: Includes 4 LEGO® City minifigures: 2 Sky Police officers and 2 crooks. Features a high-speed Sky Police jet with opening minifigure cockpit and extending hook to catch the thin, coated cloth parachute, police motorbike and the crooks' getaway buggy toy car. Accessory elements include a pilot's helmet with opening visor and oxygen mask, handcuffs, 2 backpacks and 2 money bags. Toss the parachute toy into the air and try to catch it with the jet's extending hook. Sky Police Jet measures over 2" (7cm) high, 8" (22cm) long and 7" (20cm) wide. Crook's parachute toy measures over 11" (29cm) high and 7" (20cm) wide. Crook's getaway buggy measures over 1" (4cm) high, 3" (9cm) long and 1" (4cm) wide. - More Info - EAN: 5702016369779