Record Store Day 2018: what's on
With Record Store Day 2018[1] upon us this Saturday (21 April), find out what's going on at your local record shop… Over 200 record shops across the country are gearing up to celebrate the biggest Record Store Day yet this weekend, with live music, free events and heaps of vinyl to get stuck into. Read on for the official guide of events happening by region…
Berkshire Beyond the Download
'The cafe opposite our shop will be open early doors and we will be ticketing. But, you are free to escape the standing around and grab a coffee and some breakfast!
Alongside the plethora of exclusive releases available from us on the day we will be showcasing a talented range of local solo artists and bands who will be doing acoustic performances outside the shop.' Bristol Friendly Records
'Here at Friendly Records we have live performances from Snails, Alex Lipinski, Olive Haigh and Toby Hay.
Along with DJ Sets from Boca 45, Geoff Barrow, Billy Fuller and Big Jeff.' Specialist Subject Record
'We'll be stocking the more punk exclusive RSD releases, Active Distribution will be opening their doors for the day, and the cafe will be serving up vegan food, cake, coffee & beers.' Rough Trade
'Rough Trade Bristol are proud to welcome a selection of our favourite bands and DJ's live in-store, for the biggest day of the year.
Over 500 exclusive Record Store Day titles available to buy in store only.' Live performances from Laish, Drahla, Red River Dialect, Poisonous Birds, Mastersystem, Roni Size (DJ), Elder Island,Wych Elm, Turbowolf and Heavy Lungs. Cambridgeshire Relevant Records
'Kicks off on midday, until 6pm.
Doors to the cafe open at 6am, everyone is invited in for a bacon roll & all the tea and coffee you can drink. We have a great line up for you; an artist will perform in store every hour!' Performances from Dan Wilde, Polly Paulumsa, Gabby Rivers, Beverly Kills, Goldblume and special guests. Cardiff
Diverse Vinyl
'Diverse Vinyl, in conjunction with Newport Now, are hosting a free multi-venue event across six venues in Newport City Centre. Confirmed acts so far include: The Yawpers, Ming City Rockers, Fresh, White Trash Band, Gender Roles, Seazoo, FutureLives, KEYS, The Lucky Strikes, SMALL GODS, Boy Azooga (acoustic), The Bug Club, Deathtraps, Peachfuzz, The Apple Tree Theory, Bryony Sier official, Joe Kelly, Frankie Urbano, Shimai, Iolo Edger, Genevieve Gyseman, Ian Lynn Palmer's Music, The Dirt Preachers, She Said, Byron Vincent, Sarah McCreadie, Matthew Scott, Angharad Iris, Mat Troy and Rachel England. It's going to be a great day with lots of great venues and artists!
Spillers Records
'Lauren Laverne is taking her show on the road heading to Spillers Records in Cardiff – the oldest record store in the world – to revel in all things vinyl. Lauren is joined by Welsh icons Gwenno and Super Furry Animals' Gruff Rhys who go back to back in a vinyl-only Desert Island Disco; and Canadian-born American singer and songwriter Haley – formerly Haley Bonar – will be performing tracks from her limited edition RSD release.
Gwenno Cornwall
Museum Vinyl
'We will have live music throughout the day from local artists including Tregony Teachers, Brett, and Frecks and Speks. We have the majority of titles being released this year and it will be our first year of participation (we are very excited!) There will also be a raffle where customers can win gift vouchers and merchandise. Coventry & Warwickshire
Frank Harvey Hifi Excellence
'To celebrate the big day we have five turntable-based systems playing from some of the world's best turntable manufacturers. The fun starts at 10am and will finish at 5pm. Suppliers will be on hand to answer any questions you have.
There will be offers on all products on the day along with 10% off our vinyl store as well. There will also be food and drink throughout the day along with Mauro's famous coffee! Black Circle Records
'We have many local bands playing on the day, such as; Louise Sian, Jeff Roberts, The Golden Age Of Sail, Rusty G's, Steve Winch and The Inception, Broken Lamps, Rory Price, Ryan Griffiths and lastly; April Blue.
Slide Record Shop
'We are celebrating great music with performances from two brilliant acts that hail from Bedford. First up will be Bedford's finest 'raw rocking' quartet – Henry and the Bleeders who will be sharing a pretty special acoustic set with us all. Secondly, we will have an acoustic performance from Danni Nicholls.'
Cumbria Vinyl Cafe
'We have live music throughout the day from 12pm onwards, in order of appearance: Sugarspun, The Heartwood Institute, Laura James & Chris James.' Devon
Phoenix Sound
'Vinyl-only mod/soul/kka with DJs the Vinyl Avengers. Noon – 3pm, free admission.' Bridport Music
'This year at Bridport Music, we have tea, coffee and cakes to sustain the early morning arrivals.
Goody bags with all vinyl purchases. From 10am we will have live music from; Gris-de-Lin, Silver Chix, Phil Jinder Dewhurst, The Gravity Drive, Mike Hall, Abi Rich, Mitch Norman. Dundee
Assai Records
'Celebrating indie record stores with hundreds of limited edition releases, live music and good vibes!' Le Freak Records
'We got some of Dundee's finest bands and Dj's playing ( who shall be revealed later) as well as exclusive Record Store Day Releases. OOFT it's party time.'
Edinburgh VoxBox Music
'We're having our annual Record Store Day street party, and everyone is invited! We'll be open 8am-6pm to sell you the finest RSD releases as well as some freshly priced gems.
From 11am-7pm we have a free entry showcase of some of the finest musicians and labels that we work with throughout the year topped off with some special guests. All have recent, exclusive or brand new releases for sale: Kathryn Joseph, Savage Mansion, Carla J. Easton (Teencanteen), Phillip Taylor (Paws), Book Group, Super Inuit, Dana Gavanski, special guests and more.
Coda Music
'This year we've decided to break tradition and keep the shop free for customers browsing the racks, all about the vinyl! We will have even more RSD stock than ever before so hopefully everyone will find what they're looking for from the RSD release list. We will of course have our usual breakfast for those waiting in the queue at 8am.
Bacon or egg rolls supplied by the Italian on The Mound deli next door! Plus, a free to enter prize raffle for one of the fantastic Rega RSD Turntables. We're looking forward to seeing everyone!'
Underground Solu'shn
'We have a huge range of artists performing on RSD including: Finiflex, Proc Fiskal, Barbe Rousse, Main Ingredient, 50% Pure, Sanna & Simon Kirby. Dj's Include: Stephen Brown, Rebecca Vasmant and She Bang Rave Unit.' Essex
South Record Shop
'We'll be open at 8am for the early risers and will be taking a list off the first 10 in the queue to guarantee you get what you want! The full list is published on our website. If there is anything that catches your eye, please let us know as soon as possible.'
Fives Records
'Middle Age Spread are delighted to present the sixth annual Record Store Day! Here is your line up: Lemon Soul, Podrophenia, Soundr, and Ship Full of Bombs.' Intense Records
'Exclusive RSD releases, Live DJ's and acts performing throughout the day, Free giveaways and competitions.'
Fife KCC Vinyl
'This is our first year taking part in RSD! We have three bands performing from 2pm-4pm.
Shambolics, The Jook Joints, Messed Up Youth.' Glasgow LP Records
'Come join us for a selection of limited edition RSD exclusive vinyl and an evening of great tunes from some of our favourite local artists.
Doors open at 8am and there will be live music from 5pm featuring; Louis Abbott (Admiral Fallow) Martha Ffion; Carla J. Easton; Savage Mansion; Zoe Bestel ; A. Wesley Chung; David MacGregor (Kid Canaveral); Caitlin Buchanann.
Big Sparra Music Cafe
'Special foods, DJ sets and a medium selection of releases. Big Sparra Music Cafe is having an intimate gig in the evening with some sweet soulful singer songwriters.' Gloucestershire, Herefordshire & Worcestershire
The Record Shop Ltd
'We will have free bacon butties for early customers and great live music throughout the day.' David's Music
'We cannot wait for this year's Record Store Day! As always we will be stocking (almost) all of the lovely limited edition records!
In accordance with tradition, the staff will be up nice and early to bring the (brave) waiting queue tea, coffee + toast, and hand out lists. We'll open at 8am and make our way through the queue! Providing a soundtrack to the morning will be DJ Malc (soul expert) & DJ Rob Hague (from H-towns Rags n Wax!) Followed by an afternoon of free live music with Rhi, Josienne Clarke & Ben Walker.'
Gatefold Records
'We'll be stocking hundreds of this year's limited releases, with our full list available to view soon. Join us in the celebration of Independent Record Stores across the world, with the plans as follows: 7.30am free tea, coffee & cake for our dedicated queuers. Lists handed out to the first 10-20 people, so we can bag up your wishlists (first come, first served).
8am doors open, with goodie bags for the first 20 customers.
11am vinyl DJs spinning in-store.
12pm streetfood from Mexican Kings, Cantina Carnitas. As well as all of this, we'll have beer deals, awesome raffle prizes to be won and one day only offers in-store!We can't wait for the big day – see you all bright & early!' Stylus
'We've got goody bags for the first 20 customers on the day and will be giving out free tea and coffee to those queuing before we open our doors at 8am.
We've got a food pop up event from a renowned local chef serving up some delicious lunch meals to accompany the odd glass of wine or beer. Music starts at 12 midday with local singers playing in to the evening: Georgia Nevada – country. Jack Alexander – acoustic covers.
Finley Thomson – hip hop, St Claire – indie folk. We've also got DJ's Zoe & Danny on hand to play electronic chilled beats in between sets. Last but not least, we've got a raffle with prizes donated by local businesses with all proceeds going to Nordoff Robbins, a leading independent music therapy charity in the UK dedicated to changing the lives of vulnerable and isolated people through music.'
The LP cafe
'This year we're teaming up with West Herts College and local label Venn Records to take over the town and make RSD a multi-venue event in Watford with the cafe at the centre. We've already confirmed 30+ acts to perform on the day in five local venues and with the support of Watford Borough Council, an outdoor stage in the centre of town. We also have a mini label market with a selection of labels setting up stalls, an exhibition at Watford museum, DJs and additional sponsorship.'
Badlands
'Here at Badlands we have hundreds of exclusive and ltd edition releases along with free live music all day with street party food and cake stalls. Not only are we having live music all day at the shop, we will also have our usual evening party at Smokey Joe's later on in the evening. Live at Smokey Joe's: 'The King Sings.' Elvis performs RSD hits!
Plus, special guest: Bennett Wilson Poole. Trading Post Records
'This year we shall be having ten DJs paying back to back in store. We will be mainly having local DJs that have nights at Keith Allen's club here at The Marshall Rooms.
Here is our line-up of who we have performing on the day: Neil Arthur, Neil Dubbu Wilson, Andy Edwards, Will Stephens, DJ Pav, Darren Norris, Jag, Tom Berry, Sean Roe, Will Cookso. Sanctuary Music
'We are having two live artists performing in store on RSD: Luke Philbrick (raw delta blues) and Frazer Lepford (contemporary r 'n b/rock). We are also having a DJ (Adam Berwick) playing throughout the day.
We will also be organising a raffle on the day with some very nice prizes!' The Music Store @ Ceritech Audio
'We have a fantastic day planned, and will have instore live music and vinyl based music systems on demonstration to entertain you as you search for those RSD gems. We have ordered a large number of the RSD releases exclusive for the day and in addition to these, we will have other titles available, including 180g Audiophile vinyl, box sets, limited editions, rarities and collectables.
Doors open at 9am, so arrive early to avoid disappointment! Kent House Of Martin
'Here at House of Martin we will have an acoustic live set from Pete Wilkinson plus Aviator, Cast, Shack, Echo & The Bunnymen.
There will be 10 percent off all clothing brands, free limited-edition Fred Perry tote bag for the first 50 customers. Mixes in store by DJ Sean T and Hunter & Nelson.' The Record Store
'We'll be having a local Radio DJ in store, reviving one of his old shows which will encompass some acoustic acts.
We'll also have food and drink available. Vintage and Vinyl
'There will be live music in store from #MASHVILLE who are launching their new album which will be available on the day in store! We are going by the first come first served rule.
There will be a free Fred Pretty tote bag for the first 20 customers to make a purchase. It's going to be a day to celebrate record shops, have fun of flicking through racks, and celebrating music in general. See you there!'
Smugglers Records
'We will be opening at 8 am. RSD is essentially a day to enjoy the centre of our worlds, your local record shop! The beer and coffee will flow and there shall be DJs til late; Diverse Frequencies & Ian Munroe.'
Hot Salvation
'On the day we'll have some delicious beers and snacks. Hope you can come and hang out with us! We are open 10am to 7pm.
We have a selection of limited edition official record store day titles available on the day. All orders are in, come see what we got! We sell quality used records, new and fully stocked.
DJ's performing in store all day: Pete Gofton ( Spiritland, Great Electric); JAZZ BEAMS DJs; Dirtydala; NatGY; Out Of Town DJ's; Paul Davies; Georgie X Justice.' Transmission
'Sistertalk, Black Helium + Art's Cool / Transmission DJs spinning plates by the greats until late.' Leicester
The Attic
'This Record Store Day, THE ATTIC is open from 8am – 11pm (welcome to queue from whenever) We will serve coffee from 7am. Not only is it the big day with loads of the RSD titles in store, we also have music from: Locks Bethany Jowett, DJ Matty B, THE KUT. There will be served some amazing craft beer and unusual gins!
We will also have some amazing giveaways throughout the day including a signed Rega record player! We will be having our very own RSD after party & we'll be selling records till 11pm with live bands & much more!' Lincolnshire
Off The Beaten Tracks
'For Record Store Day we have rare releases, freebies, offers and more. We have live music in the afternoon from 4pm with excellent Louth band: The Barbs.' London
Container Records
'We have loads going on throughout the day and also at night! During the daytime: Label Market in the main event space, featuring tables by: Ashes57, Black Acid, Container Records, Gqom Oh!, Holy Roar, Teklife, THEM, We Buy Gold, White Peach, more TBA! Night time: Headline line up TBA.
Les Aldrich Music Ltd
'Les Aldrich will be celebrating this year's Record Store Day with special guest David Robinson, the UK's Top Solo Blues Artist.' Lion Coffee & Records
'We will have live performances from: whenyoung, Swimming Tapes, Focus Group, Davies, Wood & Salvidge (Great Silkie, TOY) Spoken Word: Sinead O Brien & David Phelan. DJs: Mark Moore / S'express, Rhys Webb (The Horrors and The Cave Club), Jordan Cook (Crewel Intentions & Telegram), Charlie Salvidge (TOY), The Haydens.
We will have Record Store Day UK releases, vintage records + cocktails after party at Blondies.'
Great Silkie Lion Vibes
'This year we'll be launching RSD release Winston Reedy & Salute – Vision in Life (Double LP). Winston Reedy will be there on the day signing copies and we'll have the only copies of the very limited screen print run that they're doing.'
Sister Ray
'It's the craziest day of the year here on Berwick Street – hundreds of exclusive vinyl releases for you to buy; new friends to make in the queue; free goodies; exhausted staff members! I'll be posting what we've ordered on our Facebook page, plus updates on stock arrivals, and answering any questions. See you all on the 21st!'
Soul Brother Records
'There is always a great vibe down at Soul Brother's on RSD. This year is our 10th RSD and we are focusing even more on records, with the largest selection of the limited edition exclusive titles we have ever offered. We are stocking 350 titles, with good quantities on most of the black music titles and the major classic rock and soundtrack releases.
We will be supporting our own two releases , the incredible Jarrod Lawson self-titled debut album on vinyl for the first time and the reissue of Mary Clark's ultra-rare double A side single.' The Book and Record Bar
'The Book and Record Bar will be hosting a group of DJs on RSD, headed by The Orb's Alex Paterson doing 2 sets during the day.' Nightfly Records
'Here at Nightfly Records we have for you over 200 exclusive vinyl releases as well as a vinyl DJ set from Balearic and acid house legend Justin Robertson (DEADSTOCK 33s).
The opening times are 9am-5pm.' Casbah Records
'Our arrangements for RSD at Casbah Records are as follows; large selection of RSD titles, brand new batch of vintage vinyl to go out on the day for the first time. Including live music from 2.45pm by Mina Rose (recently sang on last album from Tricky).
Also, a raffle of Quadrophenia film poster. Lastly; we will have competitions with prizes and giveaways.' Soul Proprietors
'Here at Soul Properties we have a range of DJ's playing such as; Oliver Sudden (South London's finest boogie/soul/funk selector) & Tom Central with the 'Shapes of Rhythm" label takeover plus special guest.
Live Music on the day includes: The UK's leading new Jazz group – Ill Considered.
As well as these great acts, we will also have a BBQ with drinks in the garden.' Audio Gold
'Our plans here at Audio Gold are to open at 10am, if there is a long queue we will be willing to open earlier! We then service the line for people's requests so everyone's not queuing for the same boxes of records.
There'll be a bottle or two open to share around and some snacks available as well as cups of tea being offered. As we're a HiFi shop as well we like talking to/advising people on the day about their systems and showing people our unique collection of vintage HiFi gear. We'll be playing a special RSD playlist throughout day on possibly the world's best sounding RSD system!'
Rough Trade East
'Rough Trade East are proud to welcome a selection of our favourite bands and DJ's live in-store, for the biggest day of the year. Over 500 exclusive Record Store Day titles available to buy in store only. RSD 2018 live line-ups have been announced…Paul Day (DJ), Tim Burgess (DJ), Ulrika Spacek, Paul White (DJ), Snapped Ankles, DJ Supermarkt (Too Slow To Disco), Horsey, Dave Haslam, SHOPPING, James Lavelle, Little Simz, Haai, Hinds, Raf Rundell (Dj).'
SHOPPING
Rough Trade West
'Rough Trade West are proud to welcome a selection of our favourite bands live in-store, for the biggest day of the year. Over 500 exclusive Record Store Day titles available to buy in store only. RSD 2018 live line-ups have been announced…Isaac Gracie, The Members, Haley, Pictish Trail, Goat Girl.'
Manchester Eastern Bloc
'As well as focusing on hand picking and selecting all the best records all year round from all our regular distributors, we will be stocking key official RSD titles. On top of this will be turning our sound system on at 9am with DJ's planned from 9am til 2am.
17 hours of music, covering everything we love. Free Entry 9am – 2am. LINE UP: Darryl Marsden,Mark Turner,Gary Sloan, DJ Cutterz, Hidden Spheres, Andrea Trout, Karl Roscoe, SNO, Damo B, Alga-Rhythms, Tom Houghton,Space Afrika ,Draze,Moid, Ayrtan.
Piccadilly Records
'Live bands performing from 5pm are: Francis Lung, The Foetals, Secret Admirer, Pins DJ set, Piccadilly Records DJ Set! + More! Free Entry!' Liverpool & Cheshire
Jacaranda Records
'For those who brave the queue ready for the 9am opening, we will have a FREE morning BBQ as well as complementary tea and coffee from the cafe and live music to keep everyone entertained from the crack of dawn. The day features a huge line up of some of the most exciting artists coming out of the city; Vinyl DJ sets from resident Jacaranda DJs and those in our extended family; 3 floors of vinyl in conjunction with some of our favourite collectors; special discounts on last year's RSD stock as well as a whole host of giveaways and free stuff… everyone loves free stuff!'
81 Renshaw
'Here at 81 Renshaw we have a great event to celebrate RSD 2018. We have over 500 unique releases and special offers for the first 40 customers.
The store opens at 8am and there will be live music from 1pm; Lo- Five, Kieran Mahon, Seafoam Green, Thom Moorcroft.' The Electric Church
'We have some great live music for you throughout the day from bands such as; The Kings Pistols, The Continental Phase, This is Turin (Semi-Acoustic Set), Hanami Family, Funk and Soul DJ Set from Simon Jones (Ex- Verve/Black Submarine) Also including performances from local talent. Turin are releasing their single When God Bleeds with physical copies exclusively available in store.'
British Music Experience
'We love to talk about music at the British Music Experience, so come and visit us, show us what you've purchased on the day, and in return we'll offer you half-price entry. The British Music Experience tells the story of British Rock and Pop through costumes, instruments, performance and memorabilia, located at the Pierhead entrance of the Cunard Building.' Newcastle
Vinyl Guru
'This is Vinyl Guru's 4th RSD but it'll be the first in our new city center location. RSD 2018 is going to be massive for Vinyl Guru and we'll be giving away tickets to the launch of our first Vinyl Art Exhibition "Never Mind The Punk 45" by RSD releasing artist Mal-One with every RSD purchase. This will include an RSD exclusive discount code to use on any purchase on launch night.
Plus loads of bargain second hand vinyl including our 3 LPs for GBP10 offer and our GBP1 LP clear out. There'll be a free copy of Record Collector magazine with every purchase for the first 50 customers and we'll be playing tracks from participating RSD bands and artists all day long.' RPM MUSIC
'We'll be making a great party of it, all weekend.
The start of our 30 year celebrations. Live DJs including; Giovanni Spatucci and Ken Masters, (Patterns). Throughout both Saturday and Sunday, we will have 5 to 6 bands perform live in "Our Courtyard Beer Garden" starting 1.p.m.
Including; Baker Island, Tchotchke, Slurs and The Exes. We also have a RSD quiz, free raffle ticket for every customer with great prizes (including record tokens, gig tickets to see amazing local headline acts at The Riverside and The Cluny, a vintage record player and radiogram. Refreshments all day including bacon sarnies from 8-11.'
Beyond Vinyl
'At Beyond Vinyl on RSD we will be doing the following: Hot drinks and a butty for those early customers. We will have special offers on non-RSD vinyl & playing vinyl in store all day. Also on the evening we will be having an our official opening event/RSD party; this will include Live Music, Comedy and Drinks.'
JG Windows Ltd
'Our doors open at 8am and we have a free hot drink and a bacon butty for the first 20 customers!
100's of limited edition RSD records as well as vinyl price reductions including previous RSD titles. YAMAHA Hi-Fi Demos as well as live music from: Beth Macari, Swing State, Jen Stevens.' Northampton
Spun Out
'We're getting very excited for Record Store Day- especially now we have Thee Telepaths playing live at the shop in the afternoon. We also have a lot of great local DJ's including the Breakbeat engineer Swiss Vince, Northern Soul don Kev Palmer and retro vibes from Punk to Electro played by Scotty & Dave. There will be loads more different type of music on the day, we can't wait!'
Nottingham Forever Records
'Following last year's success at Forever Records, we will be open from 8am selling extremely limited vinyl while Think in NG Cafe will be serving culinary breakfast delights from 7am and fine Nottingham beers from 11.00 am. I'm Not From London will be providing the food of love from 12 – 8pm.
Think in NG also have a very special guest- Lonely Hearts Club Band. We'll also be having a catwalk at 5pm showcasing some of the finest independent fashion brands in the city.' Rough Trade
'From 6AM-11.30PM.
Free entry & no tickets needed. Over 500 exclusive Record Store Day titles will be available to buy in-store only. RSD 2018 live line-ups have been announced…
Say Sue Me, Tax The Heat, You Want Fox, The Lovely Eggs, The Orielles, Soft Girls & Boys Club, George Gadd, The Shrives.'
The Lovely Eggs Vinyl Lounge
'Beginning at 2pm on RSD: GEORGIE! We are very excited to have Georgie perform as she has a great voice and has recently been a support act for Jake Bugg on his tour earlier this year.'
Oxford Truck Store
'We're making it another Record Store Day Weekend as we have previous years, allowing us to keep the buzz going over 2 days. On the Saturday we'll be opening early and will have goodie bags for those waiting in the queue.
While they wait we have a fiendishly fun quiz with some great prizes, including festival and gig tickets. On Saturday afternoon we have DJs from Oxford's finest funk/soul/disco night Musical Medicine spinning discs in-store and then on Sunday afternoon we have Scott Matthews returning to the store to play tracks from his new album 'The Great Untold', plus some old favourties!' Rapture
'Here at Rapture we'll be opening our doors at 8am.
Everyone in the queue will be handed our RSD competition giving them the chance to win some great prizes! The first few lucky customers will receive an exclusive Fred Perry tote bag full of goodies, each filled with some awesome musical merchandise. From 2pm, we will be hosting the fantastic Witney Soul Club who will be manning the decks all afternoon bringing you a great array of Northern Soul, Motown and Reggae hits, one after the other.
Hot beverages and cake will be available all day as well.' Sheffield Spinning Discs
'Spinning Discs Sheffield are teaming up with our wonderful (newish) neighbours at The Tramshed Kitchen to ensure you have a full day of enjoyment through vinyl, live music, great food and fantastic beverages.
Come along, join us and join in! Shop opens 9am this year and we've even got more Record Store Day titles to choose from and even more new releases, reissues and select secondhand vinyl in the shop. Shop closes at 6pm.
Live Music in The Tramshed Kitchen (next door to the shop) between 3pm and 7pm.' Record Junkee
'This year we are celebrating Record Store Day in style with the launch of our new coffee shop and a full programme of live music. The shop is open at 8am for you early risers!
We have some great acoustic sessions lined up from 12pm-5pm including; High Hazels, Scott & James, Before Breakfast, Kid Conventional, Emma Crowder & MAN CUB. In the evening from 7.30pm; Casey Lowry, The Strawberries, BANG BANG ROMEO (acoustic). Free Entry, no tickets needed.'
Bear Tree Records
'This year we'll be holding our annual blind buy charity event in aid of Bluebell Wood Children's Hospice. They offer specialist care and support to children with a shortened life expectancy, both in their own homes and at Bluebell Wood. All profits from this will go to the charity.
It's GBP20 buy in. All you need do pay GBP20, we'll number everything we have, pick and number and you get whatever your number corresponds to. We have signed records from Dinosaur Jr, J Mascis, George Ezra, Snapped Ankles, Nightports with Mathhew Bourne, Hookworms, The Wytches, Primal Scream, 'Screamadelica' box set and slipmats, signed Liars prints, album bundles and much more.'
Snapped Ankles
Shropshire Left For Dead
'This year we will be doing our usual tea and coffee as well as freebies for those early birds! We will be carrying a very wide selection of official RSD releases!
As well as this we will also be running competitions and giveaways on the big day. We have two great acts playing from 1pm including; Every Thread (Indie Folk Duo from Birmingham) then from 3pm; Dom Craven (Shropshire based singer/songwriter).' Solent
Pie & Vinyl
'The day starts at 8am when we open our doors for the incredible folk who have earned the right (by queuing all night) to purchase some specially released one off pressing records. The live music will start at 12pm, mid-day with more details on timings coming soon. We have a real mixed bag of joyous musical styles for you, with introductions to supreme new acts (with links to the locality, just the way it should be on this special day), larger touring acts you may have heard of, with something for everyone!
There will also be live artwork from the guys at Play Dead Street Art Collective with My Dog Sighs and live vinyl only DJ's spinning *TUNES* into your ears from Fuzz Tones X Wax Equities. This is a completely FREE event to attend – and held down the historic Castle Road. The road will be closed creating an amazing atmosphere with all manner of local street traders selling curious and high-quality food and drink.'
Vinilo Record Store
'This is our first RSD! We are giving away 50 ltd edition Vinilo Record Store Day totes to the first 50 customers. Free Django coffee + cake from 7:30 am for people in the queue.
We are announcing the winner of our 'love my record collection completion' on the day (winner gets GBP100 in vouchers) and in the evening we will be playing a DJ set for Band Of Skulls after they play live at the new Nuffield theatre in Southampton.' Somerset Covers Vinyl
'We will be opening at 9am.
We will have live music from Richard Riley from 11am.' Shiftys
'We are opening from 9am-7pm on RSD and we are stocking a good amount of RSD records but mainly only one of each. We have been open for just over a year, we stock new and second-hand records, tapes, CDs, audio equipment, music memorabilia and magazines covering almost all genres.'
Sussex Union Music Store
'We will be open from 8am for all the exclusive vinyl releases. Live music from 12 am-17.00 pm, performances are on an outdoor pop up stage from Bennett Wilson Poole, Hatful of Rain, Jamie Freeman, Felix Holt and Christof Vander Ven.'
Resident
'Join us from 8am. We have 500 + limited, specially produced vinyl releases.
1 copy per title per customer, first come first served! We also have live entertainment all day, including our traditional Resident Raffle!'
Pebble Records
'Here at Pebble Records we will be offering free tea/coffee/refreshments for people in the queue and afternoon entertainment will consist of D.J.'s from the Original Forty-Fivers playing funk, reggae, hip-hop, soul and funk all on 7? vinyl.' Vinyl Revolution
'Doors open at 8am. Live music from 1pm.
Highlights are: BBC Sussex Broadcasting Live from the Store (9am to Midday) o Five bands playing outside in the street from 12:45 o 21 Duke Street shops join forces to support Vinyl Revolution's 1st Record Store Day. Each band will play acoustically for about 20 minutes, the band line-up is: 12.45pm Dirt Royal, 1.30pm White Room, 2.15pm The Filthy Tongues, 3pm Mudlow, 4pm Desperate Journalist.' The Vinyl Frontier
Shop doors open from 8am.
LIVE music from 1pm till 6pm. Performing LIVE: The Near Jazz Experience (Madness / Nick Cave / PJ Harvey / Tom Waits / The Higsons) + Raymond Gorman (That Petrol Emotion / The EverLasting Yeah) + David Ford + King Size Slim + Sister Suzy as well as DJs from 6pm including: Ray Gorman (That Petrol Emotion), Chris 'Da Doo Ron Ron' King & Rhydd Pugh & a special RSD Beer Garden for the day!!!' Stoke
Music Mania
'This year at Music Mania we have RSD live music from Alfa 9, plus special guests!' Suffolk
The Vinyl Hunter
'We are delighted to invite you to our Record Store Day UK event! For the festivities this year we have organized some amazing music throughout the day including; Krautfunk Extraordinaire's & Psychic Lemon for the first time in Bury St Edmunds!'
Surrey Banquet Records
'Here at Banquet Records, we have some great bands and artists playing in store on the day including: AWOLNATION, Hayley and Tom Speight. But when it comes down to it, it's all about the records and the record shop.'
Dance 2 Records
'From 11am to 5.30 pm we are having DJs spinning music in our Guildford shop. The session will be broadcasted live on Kane 103.7 FM. Confirmed DJs for the day are: DJ Miracle, DJ Chud, Nomis, Bass Science, Depth Charge, Miss Tyson, Pablo Mac, Norris Raider, Stone Collins, Rolla J and Ivan McCutcheon.
More to be announced nearer to the big day!' Swansea 'Here at Derricks Music, we are having a Hi-Fi demonstration in conjunction with Audio T – Swansea (Hi-fi & Home Audio Retailers) on the day.
Plus; we will have a free to entery draw for a Rega Record Store Day turntable!' Tees Black Slab Records
'This year we will be selling RSD 2018 exclusives and enjoying the whole day with a few surprises in store!
Please keep in touch with our social media and website for more info.' Ulster Armagh Music
'Free tea and coffee for the first 100 people in the queue courtesy of Embers.
Loads of giveaways throughout the day to RSD Customers including Tote Bags, Button Badges, CDs, Cushions and more. We have two great live acts on the day; Plague Artists & DJ Chill.' Bending Sound
'Bending Sound Records on High Street Bangor will be open from 9.00am until 5.00pm for all Record Store Day releases.
Check out Bending Sound Facebook page for all updates. At the same time a record fair will take place just across the road from Bending Sound in the MG car showroom from 9.00am until 3.00pm. From 3.00pm until 1.00am Flea Market Soul presents a huge selection of vinyl only at Record Store Day at Hop House.
More events still to be announced so if you 'like' all the relevant pages you will be kept up to date.' Fairhill Records
'Fairhill Records in Ballymena in Northern Ireland are celebrating their first year taking part in RSD! On the afternoon of the day we have a local artist Ryan Price doing an acoustic session in the shop, Ryan came second in a local talent show earlier in the year.
Along with the RSD releases we will be running an offer that day on our second hand, pre-loved vinyl. Spend GBP30 and get a free GBP10 gift voucher! I'm sure it will be a great first year with many more to come.'
Ben O'Neill – (The Record Shop)
'Celebrating 45 year of Independent Music in Waterford. Open at 9am with hot beverages and sweetness for our lovely customers! Hundreds of limited edition Record Store Day Releases. 'Thank you' discounts on all other stock.
Live Music from Cork based 'Mojo Rising' and live set from 'Waterford Ska Club'. Get your dancing shoes on and walk this way!' Wales (other)
Red House Music
'Record Store Day comes to Red House Music for a day of special musical releases and an afternoon of live acoustic music. The festivities start at 8:30am and the bands start at 2:30pm: Robbo – Unplugged and Exposed (4:15 to 4:45pm) Ben Dain-Smith (3:40 to 4:10pm) The Moorings (3:05 to 3:35pm) Chris Noir (2:30 to 3:00pm)
In addition, the first 20 customers will get goody bags, 1 of those bags will have 2 x free tickets to Electric Six and another will have 2 x free tickets to Space, at a local venue.' Tangled Parrot
'Here at Tangled Parrot we have two acts performing live in the shop.
Alex Dingley (12.30pm) & Names (2.00pm).' VOD Music
'We are very excited to have a great line-up for our live music on the day just over the road from the shop with: KAVUS TORABI (Knifeworld, Gong, The Cardiacs), SENDELICA (Featured in this Month's Prog Magazine) Space/Pysch Rock. We also have a Record Fair at the same venue.
We will be giving Freebies away to first few in the queue. All RSD sales will be from our shop with Music/Record Fair at the Daniel Owen Community Centre.' Drop The Needle Records
'For those of you new to RSD, records are released in limited runs, with things like previously unreleased material, coloured vinyl, bonus tracks, new songs etc…all kinds of wonderful one-off releases which are only available to Independent record stores signed up to take part.
We are open at 8am and all stock are 1st come 1st served.' West Midlands Eclipse Records
'Eclipse Records will be offering some acoustic music on the afternoon, then on the evening we will be carrying on RSD18 with our great friends at The Fountain Inn, Lower Forster Street, Walsall.
Ignite Recrods
'We have for your over 400 titles and an acoustic show over the weekend.' Polar Bear
'This year at Polar Bear we have 2-3 bands playing; Black Bombers will be playing and Rhino and the Ranters. Starting from midday.
Genres of music include; Jazz ; Blues; Rock; Metal; Prog; Avant-garde; Folk; Indie; Soul and funk & Reggae.' The Diskery
'Here at The Diskery we have an in-store gig happening for RSD! We'd love you to join us here at The Diskery as we welcome Trevor Burton, co-founder of The Move who will be playing tunes from his new solo album, Long Play.
This exclusive live in-store acoustic appearance starts at 1pm.' Wiltshire Red House Records
'We will be opening around 6am on the day and we will be providing RSD stock lists for anyone who doesn't have one.
You can select as many titles as your bank account will allow We will have your selection bagged up for you when we open the doors at 8am, so no need to panic about missing anything! This is done in strict queue position so the earlier you are there, the bigger chance of getting everything you want/need! Darkroom Espresso will be taking orders for their superb coffee from approx 7am.
They will come to you so no need to leave your spot. As a special thank you from us, for the first 10 queuing customers, the coffee will be FREE! We look forward to seeing you on the big day.'
Sound Knowledge
'We'll be open from 8am with hundreds of releases from this year's list. As ever, the RSD celebrations roll on through the weekend and we'll be hosting our annual Record Store Day Live event with the help of our friends Cafe Thirty8. We'll have a whole afternoon of great live music from midday on Sunday 22nd and we can announce that this year we'll be joined by: FLYTE, EMILY BARKER, MEEKING, THE BAND OF THE UNDERHAND & HOOCH This is not a ticketed event, all customers welcome.
In addition to the Cafe Thirty8 venue there'll be an outside bar and BBQ, and of course the shop will be open throughout to mop up any remaining RSD goodies or anything else that might catch your eye!' Yorkshire Vinyl Eddie
'To celebrate the occasion, we are holding an event at the Victoria Vaults on the day- from 1pm onwards featuring: Live Music with an acoustic set from Rob of brilliant local rock band The Mothers.
Record Fair- classic vinyl, new releases and rarities at bargain prices. Free Pizza! – families welcome. The usual selection of lovely local ales.
In addition to the all-day mayhem at Vinyl Eddies store on Tadcaster Road, we will somehow be squeezing in no less than 3 superb live acts in store from opening time (8am) until around noon, when we head up to the Vaults to carry on the day! Currently confirmed are: York rockers The Receivers & great singer songwriter Pete Godson, Special Guests- Luna Velvet is support of their amazing new album.' Record Revivals
'Our doors open at 9am for RSD exclusives.
Goody bags for those first in line including a Fred Perry tote bag. Flash sale of CD box sets. New Sales Floor open upstairs with 100s of pre-owned vinyl albums, singles and CD's.
All vinyl DJ sets from Stone Penguin/Coastval Picnic DJS & Special guests 1pm-6pm. Free Freils Cider tasting upstairs from noon (while stocks last & proof of age may be required). Free Draw @ 12:30 for Exclusive Soundweight Records Merch.
Come along and see what it's all about!'
Ghost Music Jumbo Records
'On Record Store Day here at Jumbo Records, we will have live music from: X Ray Cat Trio, Waiting For Wednesday, Shadowlark, Ghost Music and Serious Sam Barrett. Follow our website and Facebook page for more information on what we're doing on the day!
Loafers Vinyl & Coffee
'This year, it is our first ever RSD in Loafers. On the day we will have live music, fresh coffee & cakes, and Vinyl Soul have also designed and will be signing 100 limited edition A2 posters for GBP10.' Revo Records
'Here at Revo Records, Halifax, we are very pleased to announce "The Folsom Three" will be playing a set of Rockabilly/Johnny Cash in the Arcade at 12pm for RSD18.'
The Record Cafe
'The Record Cafe will be open from 8am. We'll have DJs all day, including Jeff O'Toole, Mark Brown and Prof. We also have a special Record Store Day beer that will be launched on the day, A 4.2% American Pale Ale collaboration brew between The Record Cafe and Wilde Brewing.
And in the evening, we will have live music from Liverpool's Nick Ellis.' Vinyl Tap
'At Vinyl Tap, coffee will be available thanks to our friends at Dark Woods Coffee. The Parish will be taking over the stage again and this time we will also be providing a bar with both alcoholic and non-alcoholic refreshments, plus food with both vegetarian and vegan options.
So far, our stage line up looks like this: shambolic / 1919 / Savvy Sav / Bad Knaves / Birds and Beasts / Robert Sharp.'
References

^ Record Store Day 2018 (recordstoreday.co.uk)
Best day 2018 wedding decoration - More Info
Zeblaze VIBE3 1.24quot Smart Watch with All-Day Activity Record, Sport Reminder, Remote Camera for iOS Android - More Info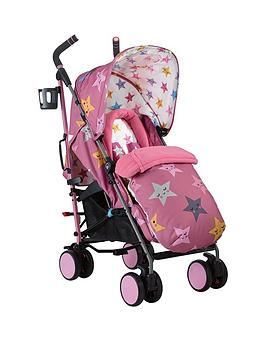 Add some magic to every trip out with the Cosatto Supa 2018 Stroller! Compact, lightweight and extremely sturdy, the Supa 2018 stroller from Cosatto was designed with practicality in mind. It comes with a stowaway auto-stand, making it easy to store and completely fuss-free to fit into smaller car boots. You'll also feel prepared for everything the day has in store, because this pushchair comes fully equipped with a UPF100+ extendable hood, raincover and fleece-lined footmuff. Parents will love the adjustable height handles and spacious shopping basket, while the multi-reclining seat and adjustable leg rest will keep your little passenger smiling too! This Cosatto buggy even comes with the original 4 year guarantee for your peace of mind. Depth: 78 CM Height: 110 CM Width: 48.5 CM Chassis: Aluminium Closed Depth (in mm): 250 Compatable With Carry Cot: N Compatable With Car Seat: N Fold Type: Umbrella Fold Parent Facing: N Removable Wheels: N Wheel Type: 4 Wheel Suitable from birth. Weight tested to 25 kg Lightweight aluminium chassis with carry handle. Great for city living. Adjustable handle height for your comfort. Supa 2018 is so considerate. Integral hood UPF100+ sunshade protection to banish pesky rays. Cup holder for journey juice. Handy one hand recline with 4 recline positions Adjustable calf support for comfy little legs. 5 point harness with quick-release buckle.Spacious storage basket. This is a biggie. Full suspension and lockable front swivel wheels for tight spots. free-standing feature when folded. Great to store. FREE chest pads and headhugger. Reversible liner with removable front bucket for all-season options - More Info - EAN: 5021645051894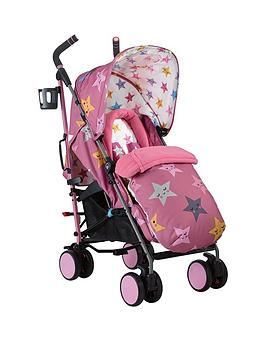 Add some magic to every trip out with the Cosatto Supa 2018 Stroller! Compact, lightweight and extremely sturdy, the Supa 2018 stroller from Cosatto was designed with practicality in mind. It comes with a stowaway auto-stand, making it easy to store and completely fuss-free to fit into smaller car boots. You'll also feel prepared for everything the day has in store, because this pushchair comes fully equipped with a UPF100+ extendable hood, raincover and fleece-lined footmuff. Parents will love the adjustable height handles and spacious shopping basket, while the multi-reclining seat and adjustable leg rest will keep your little passenger smiling too! This Cosatto buggy even comes with the original 4 year guarantee for your peace of mind. Depth: 78 CM Height: 110 CM Width: 48.5 CM Chassis: Aluminium Closed Depth (in mm): 250 Compatable With Carry Cot: N Compatable With Car Seat: N Fold Type: Umbrella Fold Parent Facing: N Removable Wheels: N Wheel Type: 4 Wheel Suitable from birth. Weight tested to 25 kg Lightweight aluminium chassis with carry handle. Great for city living. Adjustable handle height for your comfort. Supa 2018 is so considerate. Integral hood UPF100+ sunshade protection to banish pesky rays. Cup holder for journey juice. Handy one hand recline with 4 recline positions Adjustable calf support for comfy little legs. 5 point harness with quick-release buckle.Spacious storage basket. This is a biggie. Full suspension and lockable front swivel wheels for tight spots. free-standing feature when folded. Great to store. FREE chest pads and headhugger. Reversible liner with removable front bucket for all-season options - More Info - EAN: 5021645051894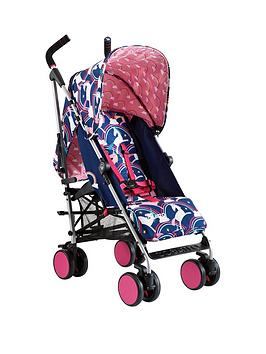 This Cosatto Supa Go 2018 Stroller will be with you from day one. This compact, from-birth stroller from Cosatto has been designed with practicality in mind. It's incredibly lightweight, and comes with a stowaway auto-stand that makes it easy to store in your home or in your car boot. The compact folding mechanism is perfect for public transport too! Little ones will love the multi-reclining seat and adjustable leg rest, while the height-adjustable handles and generous shopping basket make this buggy a great pick for parents. Equipped with a UPF100+ extendable hood and raincover, you can feel prepared for whatever the day has in store. For added peace of mind, this stroller even comes with a 4 year guarantee. Depth: 78 CM Height: 110 CM Width: 48.5 CM Chassis: Aluminium Closed Depth (in mm): 250 Compatable With Carry Cot: N Compatable With Car Seat: N Fold Type: Umbrella Fold Parent Facing: N Removable Wheels: N Wheel Type: 4 Wheel Suitable from birth. Weight tested to 25 kg Lightweight aluminium chassis with carry handle. Adjustable handle height for your comfort. Integral hood UPF100+ sunshade protection Full suspension and lockable front swivel wheels for tight spots. free-standing feature when folded. Great to store. Handy one hand recline with 4 recline positions Adjustable calf support for comfy little legs. 5 point harness with quick-release buckle.Spacious storage basket. Compact umbrella fold with Auto lock. Quick and easy. Pop-off seat covers for easy cleaning. You'll thank us. - More Info - EAN: 5021645051962