Devon Travis finding rhythm at the plate with Blue Jays
TORONTO – The premise of the Toronto Blue Jays' plan to use Devon Travis on a two-games-on, one-game-off basis made sense. Easing the second baseman's workload and building in consistent recovery time would lessen the burden on his twice surgically repaired right knee, helping him stay on the field more consistently. In practice, the approach worked from a physical standpoint, but there were unintended consequences on the mental end of things, especially when Travis slumped badly out of the gate.
The rest days meant anytime he started developing a rhythm and feel at the plate, a game off was sure to interrupt it. And when he wasn't on the field, there was just so much time to think and think and think. "It's all you do the whole day," Travis said Saturday, before his two-run homer off three-time Cy Young Award winner Max Scherzer leveraged a strong Marco Estrada start in a 2-0 victory over the Washington Nationals. "You sit there, watching a game and when you're not going good it's like you're mentally exhausted by the time the game is over because you're thinking about every single scenario, your swing, you have the opportunity to take more swings in the cages.
"Sometimes it can be trickier on your mind than one would believe." Travis's two-hit day against Scherzer – he also singled in the third – is the latest evidence that he's in a much better place now at the plate. In the 16 games since he started playing more regularly May 27, he's batted .333/.385/.533 with two homers, including the decisive drive Saturday.
In that at-bat, he fouled off a 95.4 m.p.h. fastball down in the zone on a hit and run before mashing an 85.4 m.p.h. slider over the wall in left-centre on the next offering.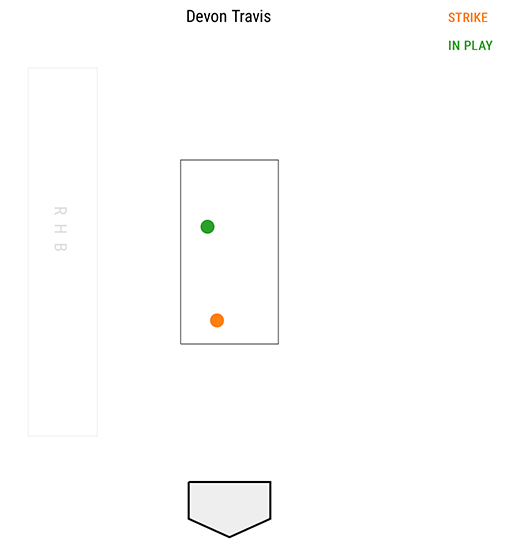 Devon Travis' fifth-inning at bat against Max Scherzer. (Baseball Savant)
"I would have liked to put that ball in play, that was a good one to get on the ground the other way, so I was a little bit upset I missed that one," Travis said of the first-pitch fastball. "After that I locked it back in, tried to focus on getting a good pitch to hit, understanding they were trying to get a groundball out of me. Thankfully I saw something up in the zone and was able to keep it off the ground. Worked out pretty good for us."
Was he hunting slider? "He's a guy that if you look slider, that 95 plays like 99, 100," replied Travis. "It's got some upshoot. If you get off the fastball against him you're in some trouble.
You've just got to get lucky." The single in the third came on a 95.9 m.p.h. heater.
Devon Travis' third inning at bat against Max Scherzer (Baseball Savant) In lieu of working on mechanics since being recalled May 22 from a surprise demotion to triple-A Buffalo, Travis said the focus has essentially been, "simplify your mind." "Sometimes you go up there and you're thinking about mechanics, about what you were working on before the game, you're thinking about what you were working on mentally before you went to bed the night before – just go up there and play baseball, see the ball, hit the ball," he explained. "I know it sounds simple, but that's the name of it when you're playing, to go up there with a free mind.
The guy on the mound is good enough. When you have extra thoughts in your head, it doesn't make it any easier." It certainly worked against Scherzer, who allowed only four hits and a walk over his six innings with 10 strikeouts.
The dominant right-hander was facing the Blue Jays for only the second time with the Nationals and has lost them both, dropping a 6-4 decision June 2, 2015 in Washington when Kevin Pillar took him deep twice in the nightcap of a doubleheader. That victory kicked off an 11-game win streak and Estrada was also the starter then. But he was much better Saturday, throwing 6.2 shutout innings, allowing only three hits and two walks with four strikeouts.
He left to a standing ovation from the crowd of 36,044 after Michael A. Taylor's two-out single put two runners on in the seventh. "It's always nice to hear the fans behind you," said Estrada, who has now allowed three earned runs over 18.2 innings in his last three starts since consecutive shaky outings. "We're all working really hard to play well every day and I know at times we can be frustrating, we frustrate some of these fans because we're not winning.
But we've put together some pretty good games lately and it's nice to see they have our backs. They're showing up and the more we win, the more we're going to see of that. And we need our fans behind us.
"I feel like they're always behind me no matter what happens. It's a really nice feeling." Danny Barnes retired Wilmer Difo on a weak grounder to end the threat, he and Aaron Loup handled the eighth before Tyler Clippard closed things out in the ninth for his third save with Ryan Tepera needing a day of rest.
The Blue Jays' second straight win was also their first shutout since last Aug.
10, and they've looked a like they were supposed to look in the victories over the Nationals. Starting pitching is one part of it as is timely hitting, the kind Travis has been providing of late with more regular playing time. "The plan was going into the season that we'd protect his knee a little bit until he started feeling good and we could extended that a little bit.
We're at that point now," said manager John Gibbons. "The kid's always hit, he's a real good hitter, everybody knows it's just a matter of time.
He might have been a little tentative early in the year, too, conscious of his knee a little bit.
But two big games in a row here and he's been really good since he's come back."