UK Haulage Expert Offers To Take Dominic Raab To Dover-Calais Crossing
8 November 2018, 17:01 | Updated: 8 November 2018, 17:10
A spokesman for the Road Haulage Association (RHA) was left in disbelief after the Brexit Secretary admitted that he hadn't quite realised how much UK trade relies on the Dover-Calais crossing. Dominic Raab called Britain a "peculiar geographic economic entity" as he called for a "bespoke" deal with the EU on goods. He told a tech conference in north London on Wednesday: "I hadn't quite understood the full extent of this."
Giving his reaction on LBC, Rod McKenzie of the RHA couldn't quite believe what he had heard.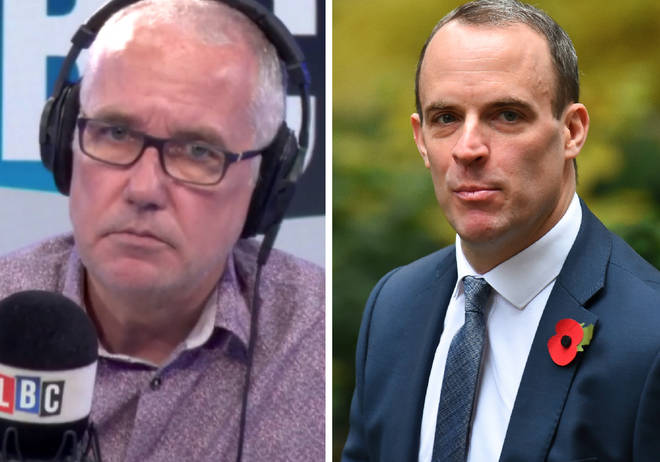 Picture: LBC/PA
"It's astonishing," he told Eddie Mair. "The guy who is in charge of Brexit negotiations for the UK hadn't quite understood the full extent of the Dover-Calais crossing and what it means for the British economy. "It really does beggar belief that this guy is in charge of the negotiation.
"For the benefit of Dominic Raab if he's listening, Dover-Calais is crucial to us all – four million vehicles, lorry vehicles, every year cross one way or another bringing vital goods."
Eddie asked: "Would you offer to take Dominic Raab to Dover and show him a thing or two?"
"I'm delighted to take any Cabinet minister to Dover and brief them." he replied.