UK seeks to ward off Brexit port gridlock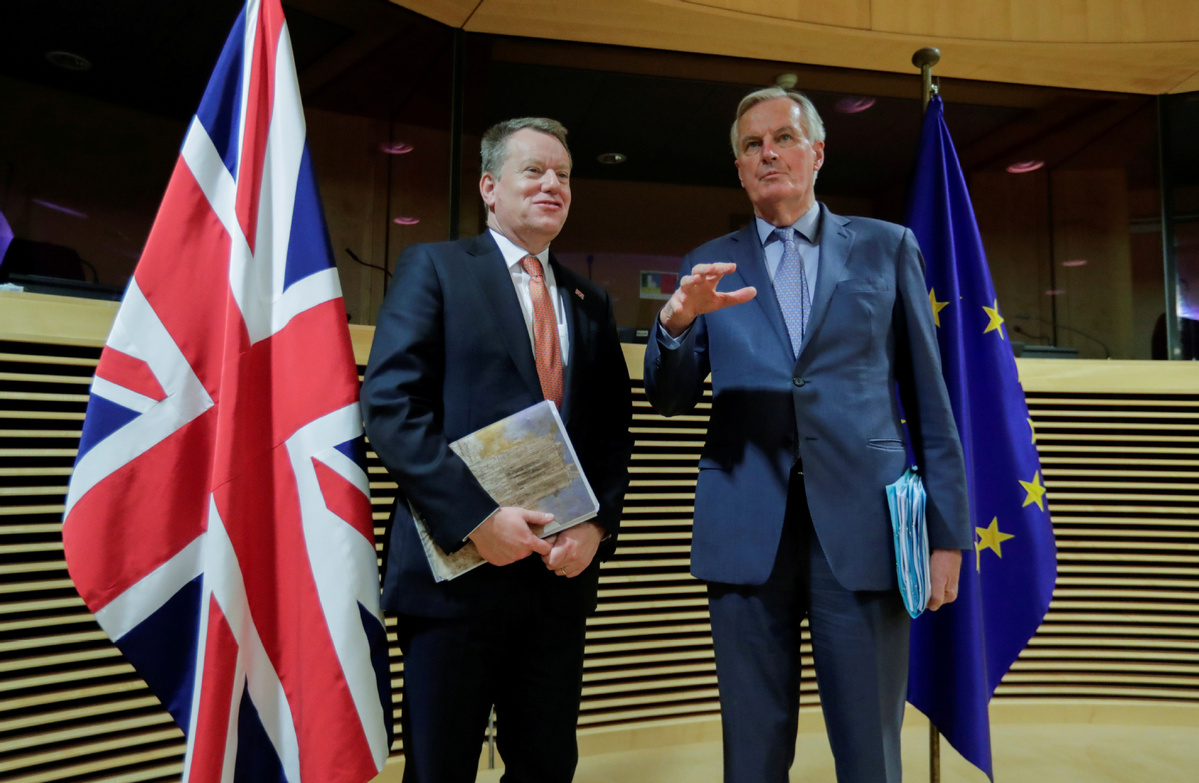 FILE PHOTO: European Union chief Brexit negotiator Michel Barnier and British Prime Minister's Europe adviser David Frost 5 are seen at start of the first round of post -Brexit trade deal talks between the EU and the United Kingdom, in Brussels, Belgium March 2, 2020. [Photo/Agencies]
Contingency roadway plan revived for no-deal outcome, but hauliers angered The British government is reviving plans to turn stretches of motorway in the county of Kent into a contraflow in anticipation of failing to secure a trade deal with the European Union and the gridlock that would cause around the port town of Dover. Operation Brock, as the plan is known, was drawn up last year but shelved when the Brexit withdrawal deal was secured with the EU.
It involved a lengthy stretch of highway having one side reserved for vehicles heading to the EU, and the other side being set aside for other vehicles, going in both directions. The United Kingdom left the EU at the end of January and is currently in a transition period until the end of the year, during which it is hoped that a trade agreement can be struck, but so far there has been little sign of progress, increasing the chances of a no-deal Brexit. The administrative and organizational fallout of such an occurrence would be huge, but a spokesperson for the Department of Transport told local news outlet Kent Online that any disruption would only be short-term, and it should encourage companies to be prepared.
"If there is significant congestion at the border following the end of the transition period, it is likely the situation will improve substantially over the first half of 2021," it said. "Any delays will be due in part to low levels of border readiness among traders and the haulage industry, leading to significant numbers of trucks being stopped by the French authorities. "That experience should act as a meaningful incentive for those who were not border-ready to ensure they are ready next time."
Britain's road haulage industry has reacted angrily to the suggestion that the burden of responsibility for the government's decisions should fall on its members. Rules compliance urged Under the current plan, lorry drivers entering Kent without the correct permit could face fines of up to 300 pounds (£393).
Chris Yarsley, policy manager at the industry umbrella group Logistics UK, said members were "dismayed that the onus for compliance will be placed on drivers themselves, leaving them personally liable for a fine if they do not comply with the new rules". He added that it sounded like "the government is expecting significant friction at the border with the EU, after the logistics industry had been given previous reassurances that friction would be minimized". Much of the campaigning in support of leaving the EU in the 2016 referendum was around the issue of cutting back on European regulations and bureaucracy, but in July the Financial Times reported that post-Brexit, British companies looking to do business with Europe would have to fill in an estimated 215 million customs declarations forms, at an annual cost of around 7 billion pounds.
There are fears in Kent that Operation Brock will lead to significant increases in traffic and air pollution, and local member of Parliament Damian Green, who supported the Remain camp in the referendum but now backs Brexit, said it "will be a nuisance, but it is better than having lorries going all over the roads of Kent when the motorway is closed altogether". This prompted Naomi Smith, CEO of Best for Britain, a group which backs a comprehensive trade deal with the EU, to say it was "an admission that the government expects major disruption at the borders". "The government should be doing all it can in negotiations with the EU to prevent such disruption by securing a comprehensive deal," she told Business Insider. "The offer of minimal border checks is there to take, but the UK government needs to compromise a bit for the sake of Kent and the UK more generally."
julian@mail.chinadailyuk.com