New Layton RC Willey store shows commitment to company roots and founding principles
Founded in the midst of the Great Depression, for 88 years, RC Willey survived and thrived despite wars, recessions, competition and now a pandemic. And with a new store in Layton, the company is strengthening its roots in the northern Utah area where its story began. Rufus Call (RC) Willey worked for the local electric company, but he began selling refrigerators out of his truck on the side in Syracuse at northern Davis County in 1932.
At the time, most people used iceboxes and were suspicious of refrigerators that required electricity to operate, explained Jeff Child, president of RC Willey. To allay their concerns, Willey would allow potential customers to test the products for a week or so before agreeing to purchase them. If they didn't like the new refrigerator, Willey would come back and pick it up and they wouldn't have to pay anything.
Once they experienced the simplicity and efficiency of an electric refrigerator instead of an icebox, most were sold and Child said Willey almost never had to take one back.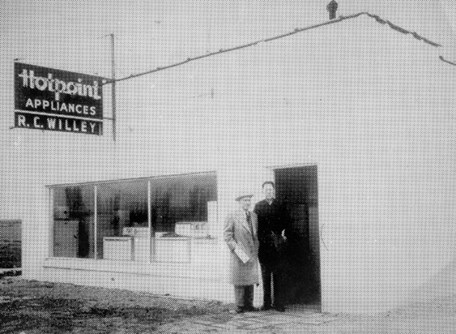 Rufus Call Willey in front of the original Syracuse store. (Photo: Photo Courtesy RC Willey)
The after-hours job soon turned into a full-time business and Willey's red pickup truck was his showroom. In the early 1950s, success forced him to have a more permanent location, so Willey built a 20-foot by 30-foot cinder block store next to his home in Syracuse. When Willey passed away in September 1954, Helen Willey enlisted the help of her son-in-law, William H.
Child, to run the company and the company flourished. Along the way, in addition to appliaces the company began selling furniture, flooring, electronics, home decor and more. Jeff Child said that the original Syracuse store was expanded nine times in the ensuing decades.
While it was a great store and a good location, it was starting to show its age. "We could have gone a few more years with that Syracuse store," Child said. "But we wanted to give our loyal customers the best we could offer." By 1990, RC Willey had six stores throughout Utah. In 1995, RC Willey merged with Berkshire Hathaway, one of the world's most successful holding companies led by Warren Buffett.
That launched RC Willey on an aggressive expansion with stores added in Idaho, Nevada and California.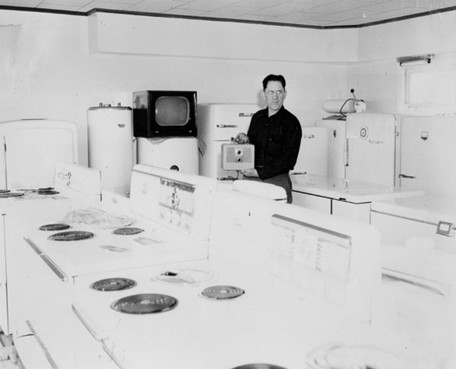 RC with appliances inside the original Syracuse store. (Photo: Photo courtesy RC Willey)
After building its first new Utah store in years in Draper in 2014, turned its focus back to northern Utah, where the RC Willey story began. The company chose a location in Layton right off I-15 for a new flagship store at 2205 North 1400 West. Construction at the new site began in March 2019.
"Our most loyal customers who have been with us since the beginning deserve the best we can give them. We wanted to take the best store we could build and put it in northern Utah," Child explained. The Layton store opened in August and all operations from the original Syracuse location were relocated to the new Layton store.
Situated on 9.59 acres, the store features 157,000 square feet of showroom space and a 14,500 square foot warehouse. The new store is more than 285 times larger than Willey's original block building. Like all RC Willey stores, the new Layton location is closed Sundays.
A Deseret News article explained the policy of closing on Sundays was a hard sell initially for Buffett and Berkshire Hathaway. In spite of the skepticism, RC Willey continued to flourish operating just six days a week, even in its markets outside of Utah. As mentioned earlier, launching a new store in the middle of a pandemic isn't that surprising for a company that started in the Great Depression.
Child said the business took a proactive approach to COVID-19 and quickly launched policies and procedures to keep its customers safe.
And because it has its own warehouses, RC Willey had plenty of inventory after the pandemic struck even when manufacturing shut down and interrupted the supply chain.
Child said RC Willey plans to continue the model of growth that carried it through the past 20-plus years by expanding into new areas where it makes sense. "We'll keep looking and if there are areas we can be successful and make the community better, that what we're looking to do," Child said.
x
Photos

More stories you may be interested in