Mike Walsh | Powder Report: Navigating apres ski life without lodges in the pandemic snowboarding season
As much as I love bombing a trail on my snowboard, and racking up runs until dehydration sets in and I've got goggle indentations marking my face, the individual tracks aren't always super memorable. Carving up corduroy throughout New England is an in-the-moment activity, and at the base of every slope that nugget of true, unbridled fun can go in one ear and out the other by the time I'm back in the lift line. It's a constant chase for that high.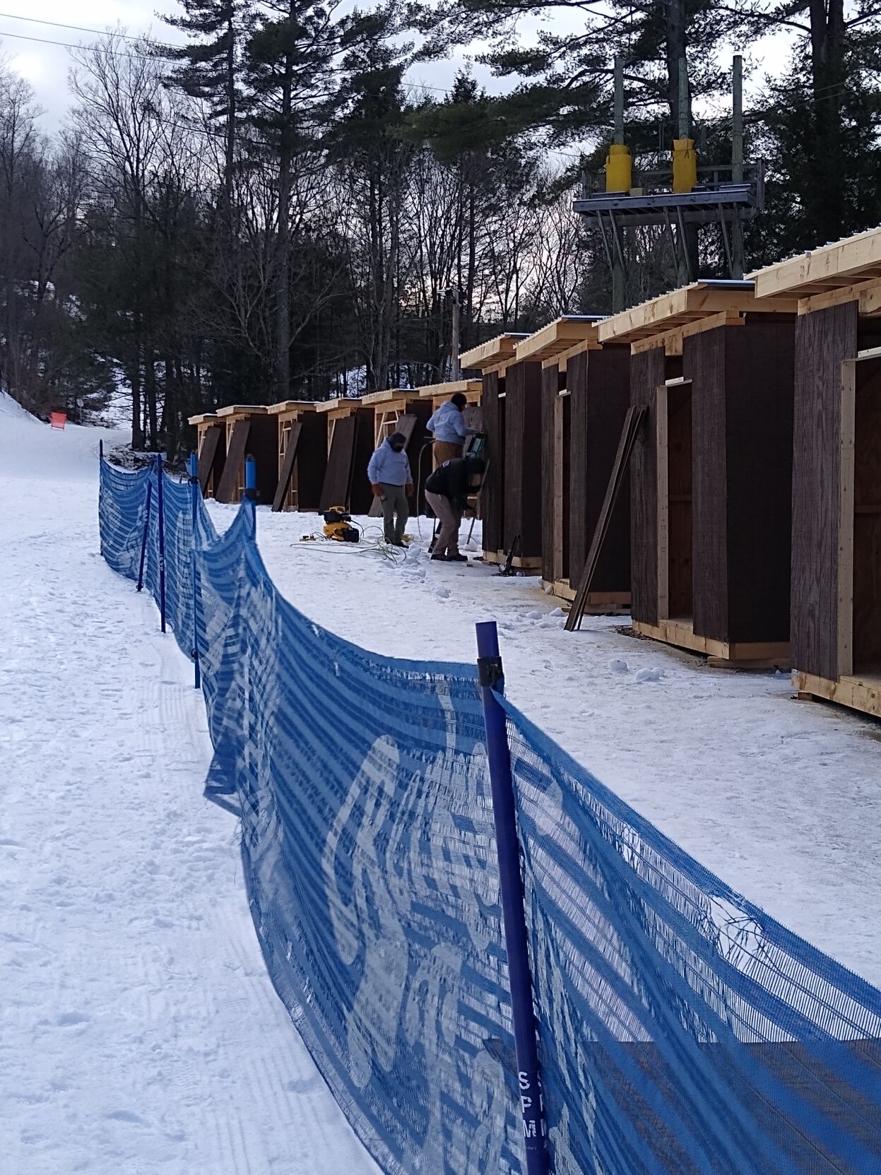 Workers set about putting the finishing touches on cabanas with picnic tables inside for families and groups to take a break from shredding, while staying safe in a distanced bubble.
There are definitely those "Oh, I definitely just broke 40 MPH" fishing-story runs, but after almost 20 years of shredding, what I remember more is the off-slope stories that surround ski trips.
And a great many of those anecdotes took place in the one place we aren't allowed to go this winter: lodges. While most days I'm a solitary shredder, what stands out more than smooth lines I can lay down on a weekday morning by myself are the post-run dispatches with buddies, while pounding overpriced cheeseburgers. As a kid, my family would take Martin Luther King Weekend at a hotel by Waterville Valley.
My brothers and cousins and I would tear it up for hours, connected by walkie-talkies, and then have a full dispatch in the base lodge downing molten hot chocolates from a plug-in electric thermos my dad would pack. In high school, my friends and I once packed 10 of us into a Franconia, N.H. hotel room and whiffed on first tracks after staying up all night playing card games. At ski club, we'd regularly spend more hours chasing girls and housing brownies in the Granite Room at Wachusett than laying down tracks on Smith Walton.
I've screamed at Patriots playoff games — and opposing patrons — at a summit spot in Pennsylvania, and written book reviews for The Eagle in JJ's at Jiminy Peak, after finishing the latest Erin Morgenstern novel on the chairlift that morning. And a couple weeks before COVID-19 burned through our lives, I was tossing my bathrobe in a snowdrift before sinking into a mountainside hot tub with six others after an annual long day Killington. After cranking out a Jiminy-Berkshire East-Catamount trifecta last week, and hardly saying one word to anyone through a mask-and-goggle fa?ade, it's hard not to get a little down to think that this year any new stories might get put on hold.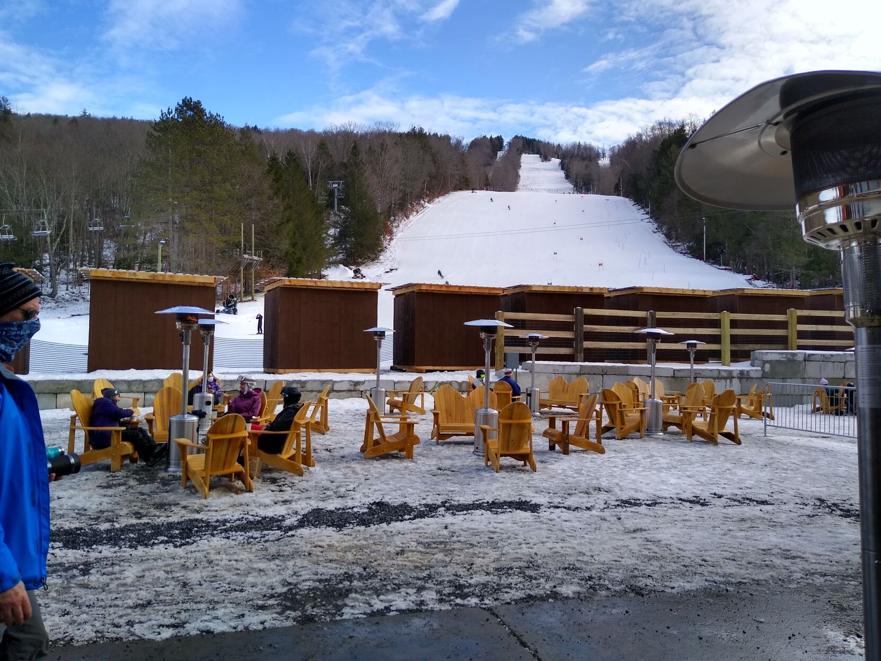 At Berkshire East, the outdoor lodge atmosphere is unmatched, with several options for safe off-mountain enjoyment.
MIKE WALSH — THE BERKSHIRE EAGLE
Then, before heading to Bousquet's season-pass dress rehearsal this weekend, I went back and reread this season's opening Powder Report, and came to Kevin McMillan's quote.
"We're focused on creating some condensed, magic moments for folks," the new GM said during an outdoor recreation webinar in October. "We're looking forward to people coming to visit Bousquet and seeing all the new improvements that are here and enjoying the environment that we've created." It's going to take some extra work, a bit more creativity, and whole lot of pivoting to make this ski season stand out in a positive light. And locally, spots are putting in that effort.
After polishing off a beastly 15-run morning at Jiminy with some Biggins Diggins food truck grub, I spent Wednesday on a road trip to Charlemont.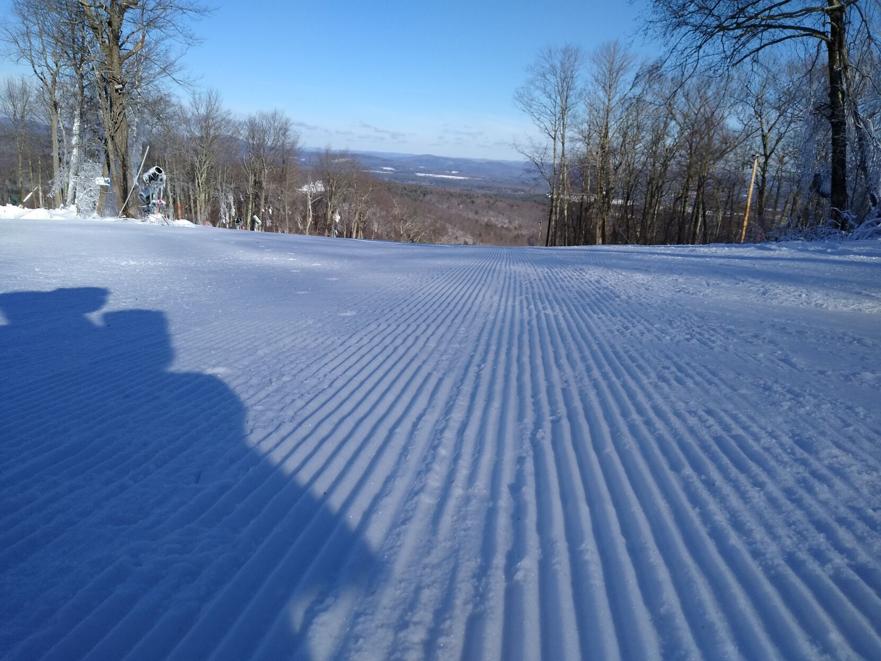 Untouched corduroy gave way to a beautiful vista near the summit at Catamount last week.
MIKE WALSH — THE BERKSHIRE EAGLE
There, a Berkshire East chairlift pivot revealed a handful of workers hurriedly putting up siding on around 25 mini, wooden cabanas outside the base lodge. Each one is rentable for individual families or groups to enjoy themselves in a private, little bubble. They all had a picnic table in them, and great views up Competition.
Tucked behind the cabanas is more my style, with around 25 Adirondack chairs, in groups of four or five encircling tower heaters. It's the perfect apres beer garden, and neatly adjacent to Berkshire East's new outdoor food concession windows.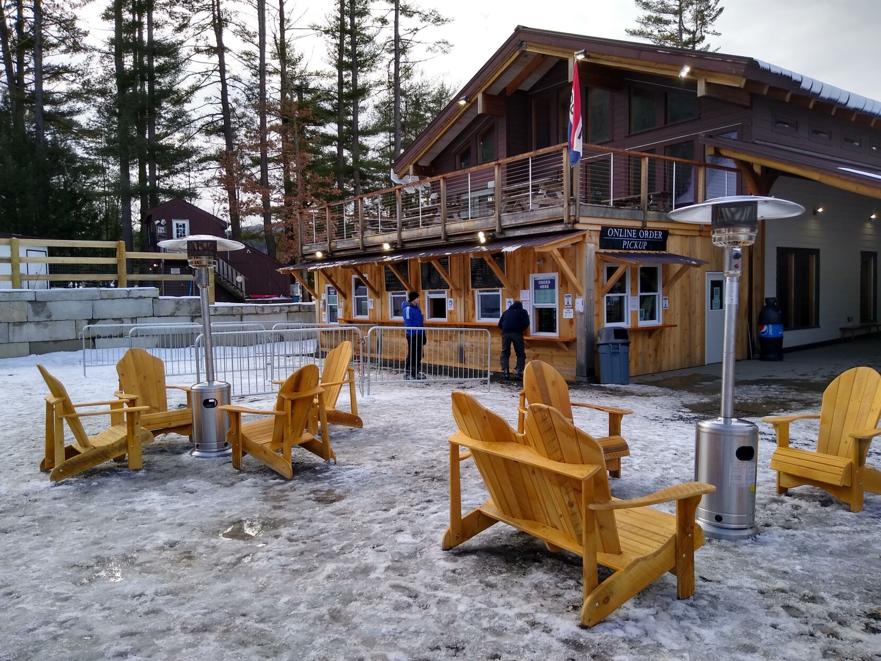 Berkshire East has pivoted to an outdoor lodge space, with a concession window and Adirondack chair garden at the base.
Photos by MIKE WALSH — THE BERKSHIRE EAGLE
Another drive was in store on Thursday to Catamount. Undeterred by achy legs and early notice of some lift maintenance sidelining the Ridge Quad, I wanted to see how the folks on the border were handling COVID-19 protocols while keeping the shred alive in 2021.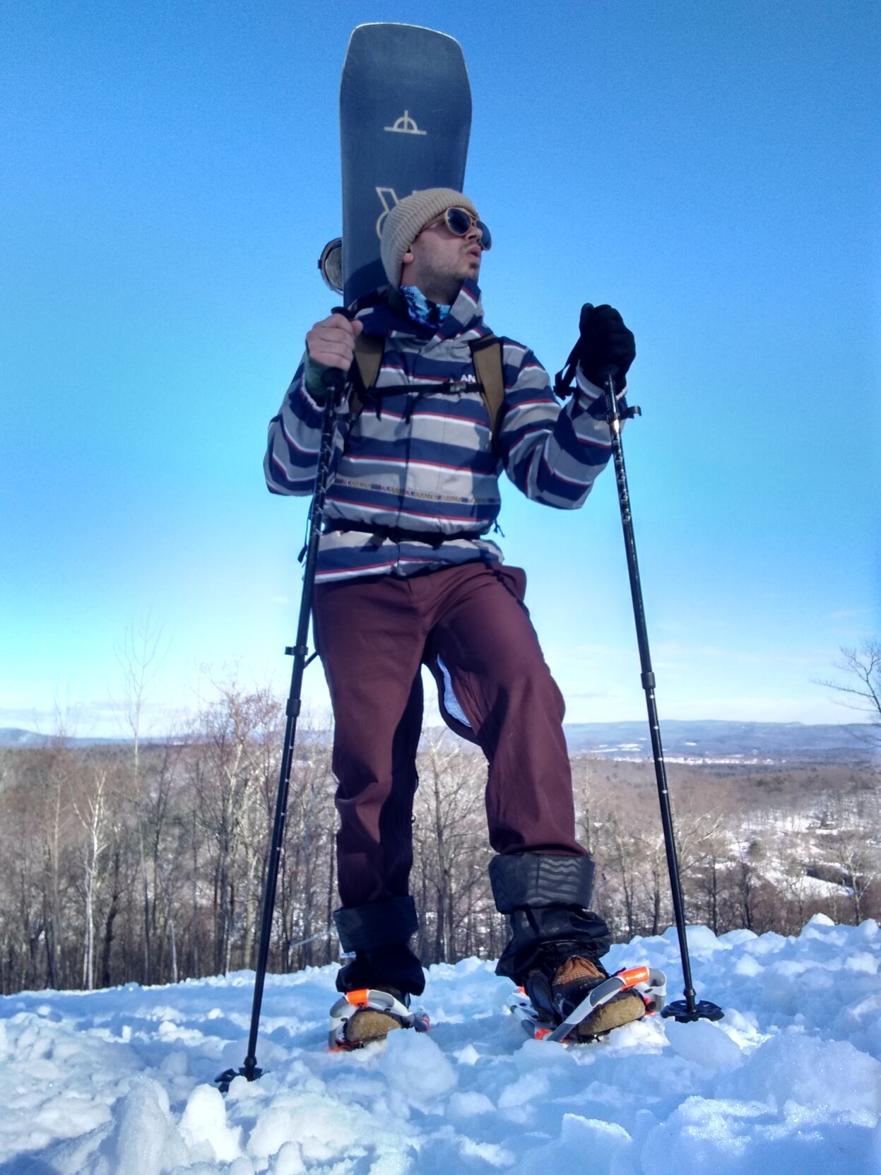 Some chairlift maintenance provided the opportunity for a pivot into an uphill hike at Catamount.
MIKE WALSH — THE BERKSHIRE EAGLE
The pandemic hurts doubly down at Catamount, because their new lodge setup was set up to take steezy apres lounging to a new level.
On the bright side, they're rebounding just as nicely as Berkshire East, with a mini cabana village tucked in at the base of On-Stage, and blazing fire pits dotting the rest of the outdoor seating area. If you're of the cold-blooded sort, though, inside seating did look available in tabled nooks, separated by large dividers inside the new Berkshire and Taconic Lodge. For yours truly, 2021 is going to be about following wherever the shred takes me.
I'm not sure I'll be riding at all with any buddies or family before I report for baby duty in about a month. So after a half-dozen or so runs on the lower lifts at Catamount, I skimmed the website for information on the uphill routes, knowing there would be untouched corduroy begging to be sampled. Luckily enough, I had some snowshoes and a backpack in the car.
I strapped in and strapped up by board, and took off climbing the 1,000-or-so feet up the Sidewinder trails and swallowed some deep breaths at the panorama spot atop Upper Alley Cat.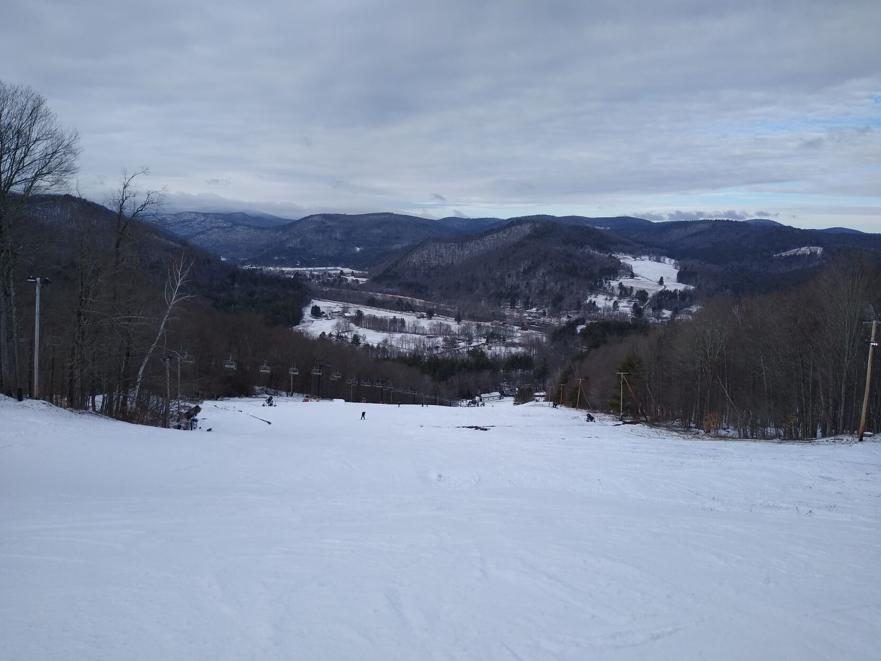 The summit view from atop Berkshire East last week.
MIKE WALSH — THE BERKSHIRE EAGLE
Until we can cram into hot tubs and cheers summit beers again, a few gulps of cold water and a baggie of gummy snacks at one of the most socially-distanced spots in the state may just have to do. And if not, you know that trip down was one of the memorable ones.
On Bousquet

The following is an excerpt from Walsh's feature on the new Bousquet, which can be read in its entirety in this month's UpCountry Magazine or on the web at UpCountryOnline.com. It's the day before Thanksgiving, temperatures are dropping and powder junkies from Williamstown to Sheffield are starting to think about digging their skis and boards out of attics and basements in advance of the coming season.
The race is on, and if there's one thing the groundwater blood of Bousquet knows, it's racing In fact, former Olympic ski racer Krista Schmidinger, who first honed her turns on the snow off Dan Fox Drive, also is a part of the new Bousquet team. Familiar faces Cindy Bartlett, Marc Latimer and race program director Mike Vecchia are holding down the fort as well.
Still, in the midst of such a mammoth undertaking, it remains important for McMillan and his team to take a moment and appreciate the little things. Like an updated sign above a window from which post-run beers and burgers soon will be handed out to thirsty shredders from near and far. General manager Kevin McMillan was brought in by ownership in August to run Bousquet.
Photo by Mike Walsh
"It's unbelievable," Holland said earlier, admiring a new trail map sign near the main entrance to the mountain. "Every time I come by here, there's something else new or something that has changed."
The list of updates is as long as a run from the summit around Easy Rider and down through the corner stretch of Drifter back to the base, but it's noticeable even via a quick detour off Route 7.