Garbage truck driver charged with homicide by vehicle, other offenses
EDUARDO T. Fabia, 49, the driver of the Artman garbage compactor truck that collided with a Honda Ridgeline pick-up truck at the Puerto Rico intersection Monday, was arrested by police at 7:28 p.m. Friday.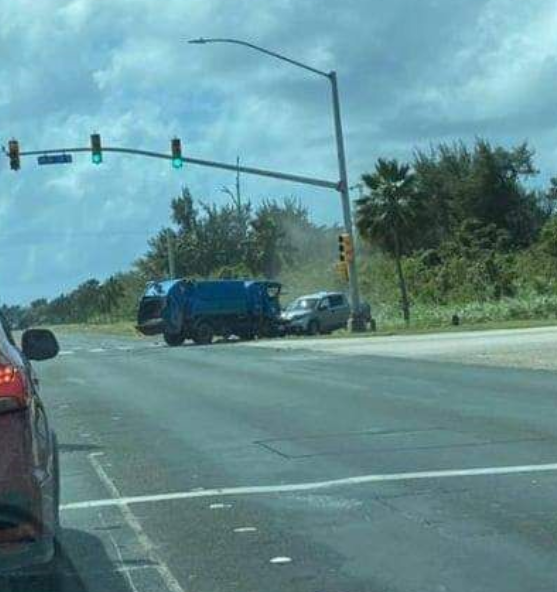 A cell phone photo taken by a motorist shows the garbage truck and the Honda pick-up a few seconds after their collision at the Puerto Rico intersection on Feb.
1, 2021. Contributed photo
The collision resulted in the death of one of the pick-up's two passengers. Fabia's wife told Variety that she was already in bed when police officers came to their house in San Roque to arrest her husband.
But she said Fabia called her from the Department of Corrections to tell her that he had been detained and that the cash bail was set at £100,000. She said according to Fabia, he was arrested on charges stemming from the Feb.
1 collision. Court documents obtained by Variety showed that Superior Court Associate Judge Teresa Kim-Tenorio issued the arrest warrant for Fabia after she received a written declaration from traffic investigator Lt.
Norris Kwon. The warrant charged Fabia with traffic signal violations, false report, and homicide by vehicle. He is expected to appear in court Monday for an initial hearing.
Artman stated that an attorney will be hired for Fabia. As of Sunday morning, the Department of Public Safety had not issued an update about the incident. On Tuesday, it stated that the crash was under further investigation to determine which operator was at fault, and if speed was a contributing factor.
A video footage of the incident that went viral on social media Wednesday showed that the gray Honda Ridgeline pickup truck was on full stop before it turned left. As it was turning left, a garbage compactor truck, which appeared to be traveling at a high speed, slammed into the pick-up. The pick-up's two passengers were riding in the bed of the Honda Ridgeline and were thrown out of the vehicle during the collision.
Both were rushed to the hospital where one of them was pronounced dead on arrival at about 1:39 p.m., Feb.
1. The other passenger was treated and admitted for serious injuries. The vehicle operator was treated and released while the two occupants of the garbage truck were not injured.
Its driver told Variety that he was heading south on Middle Road when the pick-up turned left on a red light.
This is a developing story.