Great Barrington mulls changes to area of fatal crash, will post danger signs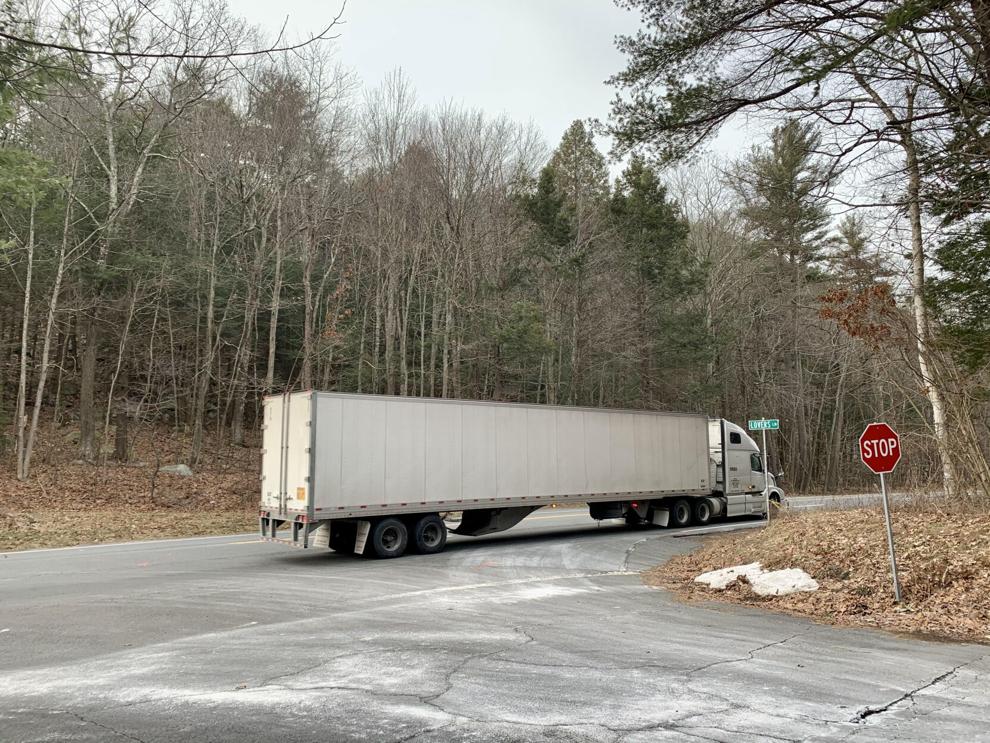 A truck heads north on Route 7 past Lovers Lane in Great Barrington. In December, a woman was killed trying to exit the road, and now there are calls to make changes to the intersection.
EAGLE FILE PHOTO
GREAT BARRINGTON — Though an intersection is under scrutiny after a deadly wreck in December, public safety officials and residents say the junction has historically been safe. Changing or closing it would cause other problems, they say.
The Select Board, in a 4-1 vote Monday, decided to add signs marking the intersection of Lovers Lane and Route 7 as dangerous — but to not change traffic patterns for now. Board member Leigh Davis voted no to only posting signs there because she wants left turns prohibited out of Lovers Lane onto Route 7 heading south. "I just hope that you guys prove me wrong and we don't have another fatality," she said. Officials are mulling safety issues after Ruth Houghton, 92, was killed Dec.
28 as she tried to exit Lovers Lane on Route 7, and her car collided with a pickup truck driven by Samantha Kaye, 28, of Monterey. It appears that Houghton was attempting a left turn onto southbound Route 7, according to the Berkshire County District Attorney's Office. Houghton, of Great Barrington, died of injuries at the scene; and Kaye was taken by ambulance to Berkshire Medical Center, with what appeared to be non-life threatening injuries.
The Great Barrington Select Board is weighing safety change to the Lovers Lane intersection with Route 7.
Clockwise, from top left, Chairman Stephen Bannon, Vice Chairman Ed Abrahams, Bill Cooke, Leigh Davis, Kate Burke and Town Manager Mark Pruhenski.
HEATHER BELLOW — THE BERKSHIRE EAGLE
The DA's office is awaiting a final report from the State Police Collision Analysis and Reconstruction Section, Andrew McKeever, the DA's director of communications, said in an email Tuesday. "Until we receive that, we cannot confirm the cause or determine whether there will be any changes," he added. Apart from possibly closing access onto fast-moving Route 7, the board is considered installing signs to prohibit left turns onto Route 7, or making Lovers Lane a one-way to the Monument Valley Road intersection. Amid calls by some residents to block access to Route 7, longtime neighbors, as well as town Fire Chief Charles Burger, told the Select Board Monday that Lovers Lane is a critical cut-through from the state-owned highway.
Prohibiting left turns from Lovers Lane onto Route 7 won't affect emergency vehicle responses, Burger added. Most agree that taking that left to head south on Route 7 can be risky. It can be "difficult and dangerous" at certain times of day, wrote Police Chief Paul Storti in an email to the board.
Yet, Storti isn't sure anything needs to be changed. He said his records indicate the crash is the only one there since 2007. "In my opinion, this last accident was due to operator error," he added. "The traffic at the time was light and there were no road conditions or visibility issues that factored into the accident." In an email obtained by The Eagle, one state Department of Transportation official said that in the last 10 years, there have been "only 3 angle type crashes." But the DOT will continue to monitor crash trends, and has made its traffic signs more visible.
Sonja Gray, DOT's District One operations manager, said that "sight distance to and from" the intersection "exceeds all accepted Federal and State standards." There is another option for those who don't want to exit Lovers Lane onto Route 7, Height added: using the Monument Valley Road intersection instead, where there is a traffic light. In an email, Peter Dillon, superintendent of the Berkshire Hills Regional School District, also weighed in, since the district's campus is near.
He said prohibiting the left turn from Lovers Lane would be ideal. "From a school perspective, we have many new drivers," he added.
Longtime residents of this area say drivers need only be careful.
Jim Santos, a Lovers Lane resident who has also lived on Route 7, said he's never had trouble. "I've pulled out of my parents' house for 40 years on Route 7 and never had any accidents there," he said.