Report: Hospitality – North East Times Magazine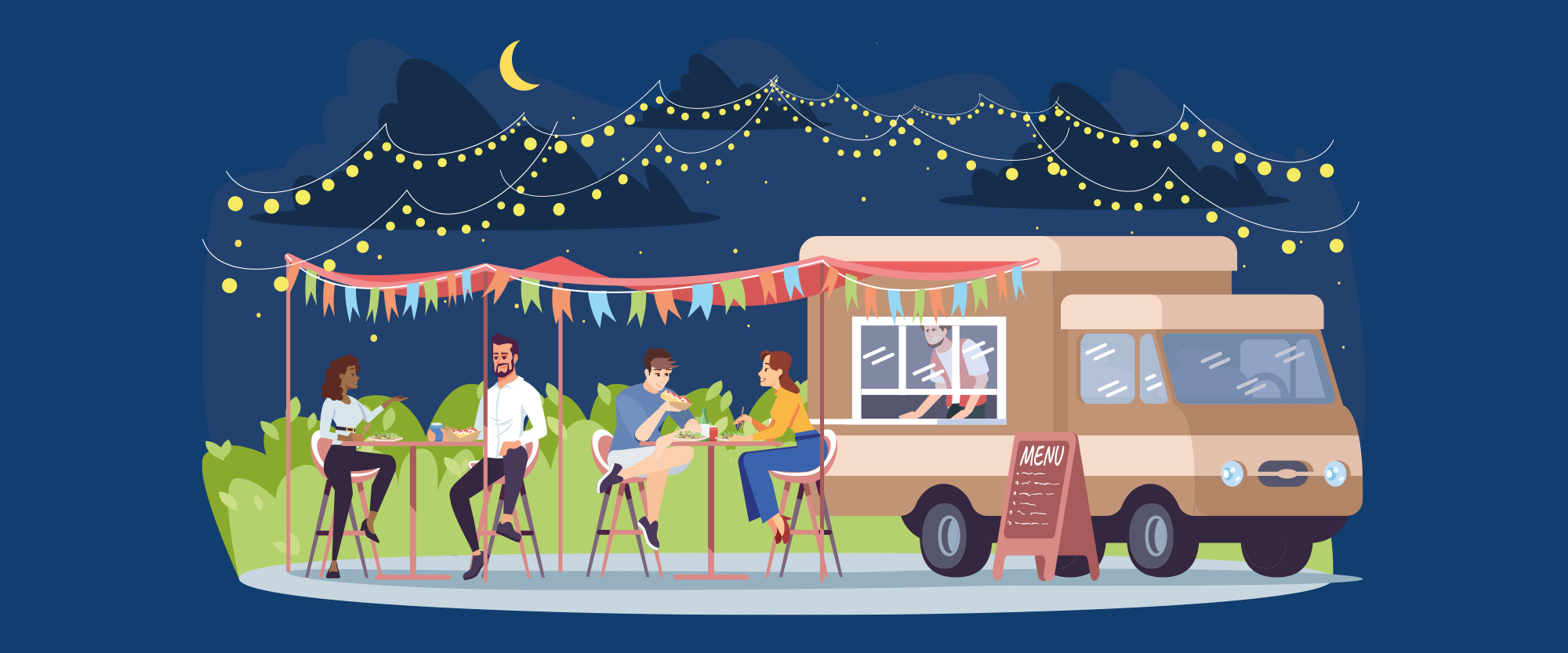 A taste revolution
With nights out and working from the office becoming the norm again, the popularity of street food has been reignited. Already on the rise before the pandemic hit, food trucks, modified horse boxes, independent shops and cafes are re-emerging from two years of closure, lockdowns and uncertainty. Offering cheaper, often fun, new, healthier options, and with young, independent vendors eager to match consumer demand for vegans and vegetarians, in today's fast-paced world, it's no wonder that eating on the go and experimenting with different tastes and flavours has become increasingly popular.
Across our towns and cities, a variety of global cuisines, from Chinese, Indian, Asian, American, Korean, Vietnamese and many more are now available - not to mention the British and local delicacies - which offer fresh and healthier ingredients without the fuss of going to a restaurant. This is just the beginning for street food and, as Colin Young discovers, the whole region is embracing this tasty revolution.
Street life
As the region's - and the UK's - taste for street food continues, Colin Young cleanses his palate and embarks on a tour of some of Newcastle's tastiest vendors, while assessing the phenomenon's ever-growing popularity across the rest of the region.
Did you know... Earl Grey Tea was invented for Charles, the second Earl Grey of Northumberland and Prime Minister in the 1830s, to offset the taste of lime in the water at his country estate, Howick Hall in Northumberland.
That for the launch of its vegan sausage roll, Greggs sent journalists the new snacks in mock iPhone packaging and their stores sold sausage roll phone cases. Founded in 1907 and based in Heaton, Ringtons still delivers tea to more than 220,000 customers across the UK. Newcastle Brown Ale, once brewed a stone's throw from St James' Park, is owned by Dutch drinks giant Heineken, now brewed in Yorkshire and is most popular in the US.
Sports drink Lucozade was launched by William Owen, a Newcastle pharmacist in 1927, the same year as Newcastle Brown Ale, as 'Glucozade'. Used in hospitals throughout Britain to aid people recovering from illness, it was renamed Lucozade two years later. In 1905, Thomas Fentiman, an iron puddler, accepted the recipe of botanically brewed ginger beer as security for a loan and as it was never repaid, started producing ginger beer himself, delivering it door-to-door.
The Fentimans logo still shows his beloved dog Fearless, who won the obedience class at Crufts twice in the 1930s. All these amazing historical insights - among many, many others - are delivered, within three hours, on the on-foot foodie tour of Newcastle, with Newcastle Tour Company guide Anna Unger. But it's not the facts which stand out, for all German-born Geordie Anna's insatiable appetite for research into her adopted city and its food history.
It is the tastes she has unearthed too. 'Come Hungry' warns the website, and rightly so, for Anna has created a delicious menu on foot, catering for all tastes, and celebrating Newcastle's eclectic and thriving street food scene. It is one of ten available from Newcastle Tour Company, which started with a pub tour and recently took a group of German heavy metal fans to a broom-riding lesson at Alnwick Castle.
Alex Jacobs, Newcastle Tour Company founder, says: "Experiential tourism and, thus experiences, are totally on-trend, and our street food tour delivers on just that. "Perfect for individuals, groups, corporate teams and more, this tour takes in some of the best places across Newcastle city centre, including favourites such as Grainger Market and Quayside but, even here, we take foodies to some hidden gems of local and world foods - all with their own unique story to tell!"
The food tour starts at Grey's Monument - fitting given the Earl's view of the city and what it now offers - and a short walk to the Naked Deli, which is next to one of the city's busiest Greggs. A South Korean beef wrap awaits, bulging with healthy black rice, vegetables and coleslaw, and which is thankfully split between the foodies, who are reminded they have a full afternoon and fuller bellies to negotiate. The next stop is Fenwick's Food Hall - a building and company bursting with stories and nostalgia - where locals and visitors have been known to spend many hours and pennies.
The target is the Saltwater Food Company and its oyster range, but you have to negotiate the isles bulging with local produce to get there, offering Anna the opportunity to introduce the likes of Ringtons, Fentimans and the countless local brewers and gin distillers that have reached the Fenwick shelves and fridges. The oysters are ready and waiting before the Saltwater Food Company opens for service and today the fresh produce named Lindisfarne, Cumbrae (Ayrshire) and Butley Creek (Suffolk) are ready to be opened for the tourers, who are handed helpful tasting notes before choosing. It has to be Lindisfarne - a faint sense of sea breeze to the nose, a silky taste of delicate butter with a hint of melon and a long, clean metallic finish - our server Dave advises we chew the freshly delivered oyster, adding lemon and their own tasty relish to the shell.
We could stay there all day, but dumplings and South Korean twirly potatoes are on offer in Grainger Market - first opened in 1835 and the UK's only market hall still open for its original purpose, as Anna informs - and home to an abundance of fresh fruits, meats and seafood, which will surprise any new visitor to the city, and continues to take your breath, and tastes, away. The Dumplings and Buns and the Soju & Gogi stalls sit opposite the fresh seafood and fish fridges, yet those colourful iced enticements from the North Sea are a world away from the tastes which await on the other side of the aisle. First, delicate experts handle, then hand over, the Chinese dumplings and dumpling buns, which come with a mixture of fillings, before we move through Asia and down the aisle to sample a cumin-flavoured potato on a stick - or lunch-on-the-go in downtown Seoul.
Anywhere that can offer 'a banana habanero in-house sauce created in conjunction with the legend Mr Vikki' is worth a visit and the tour duly obliges, with the town's chicken wing kings at Hen and Hops in High Bridge. The place captures the spirit of street food in this city. From there, it's time to take the palate on a welcome walk and to the sweeter side of the Toon's food and drink story, with pastries and breads from two of the leading exponents in the trade, Pink Lane Coffee, in Pink Lane, or Pure Knead, on Dean Street.
In our case, the cinnamon bun and tea in Pink Lane was a well-deserved treat. Before we finish with a couple of the dozens of local ales, ciders and spirits on offer in the Red House beneath the Tyne Bridge, we head to the Quayside's new hidden gem, I Scream For Pizza, where the Lamb Fender pizza slice sits alongside the New York-inspired ice cream deli. The tour will always be welcome, says manager Helen Khedri.
She says: "A lot of people associate street food with pizza, but we've branched out into ice cream, and we make everything from scratch. "And, as we only opened in September, it is good to welcome people on the tour here and show our products and share our passion for pizza and ice cream. "We have seen a real change in how people want to eat on a night out; they want the 'grab-and-go' aspect, and that works really well for us.
"A lot of people want to walk along the Quayside as they eat and be outside." The Newcastle food tour is a mere taste of the vast array of street outlets, in all shapes and forms, which have emerged across the entire North East, and the country. Street food has become a key ingredient in city centre developments, and any local initiatives, festivals and events.
Its rejuvenation has coincided with the end of lockdowns and reawakening, redefining and reimagining of our tastes and needs while socialising. The Food Pit, in Durham City, introduced street food with an indoor eating option in the new Riverwalk development before the pandemic, and most of the vendors, including Thai and Greek huts, have returned since the area reopened for business. The popular Durham Sausage Company branched out into its own premises nearby last year.
Darlington's street food hall opened last year in the Victorian Market and has proved a popular addition to the town, hosting up to 250 people with live music events to complement the food stalls and bar area. A new, glass-covered temperate garden will also soon be installed to its exterior. Hayden Ferriby, commercial director for market operators Market Asset Management, says: "Shoppers are looking for more experiential dining choices, they want to try something new and out of the norm.
"While we will continue to proudly support our fantastic independent traders, our ambitions for Darlington Market are for it to become a destination for shoppers and diners in the region and beyond, a place to come not just to shop and eat but to spend time enjoying live music with friends - all of which extends the dwell time of a visit to the town, particularly in the evenings when the building was previously redundant. "Markets and shopping centres around the country are making the change to include street food halls alongside competitive leisure and independent retail, it's the fastest growing sector in the UK, and it's a recognition that shopping and dining has changed for good. "People need new reasons to come out to town centres and markets, and street food provided by the best independent local traders is proving to be a key draw for customers.
"As well as its amazing food and independent retail offering, we are proud of Darlington Markets' burgeoning reputation as a community events venue, including hosting the North East final of the Young Traders Market for the first time on July 23." Councillor Alan Marshall, cabinet member for economy at Darlington Borough Council, adds: "The market hall has a proud place in Darlington's heart, but it has changed throughout its history to keep up with trends and the needs of its customers and traders. "This upgrade is no different, the market needs to be brought into the 21st century and reflect modern retail offers and the move towards dining and leisure as a focus for many people visiting our town centre."
Although STACK in Newcastle succumbed to office buildings, its sister building in Roker, Sunderland, continues to thrive, and the new Riverside Sunderland development will include a transformation of grade-II listed stables at Sheepfolds, which is set to house eight new venues to deliver an exciting food, drink and leisure complex. Plans also include a large open-air yard for pop-up events and stalls. And if they are not under a permanent roof, street vendors are hitting the road in their converted vehicles and can be seen regularly at annual, and now very much established, food festivals in the likes of Seaham, Bishop Auckland and Consett, County Durham.
There are dedicated websites and podcasts acknowledging the explosion in the street food scene and tracking the whereabouts of the most popular meals on wheels, from the esteemed Acropolis (delivering from Grainger Market) to Sedgefield's Impeccable Pig Van. And it all means our fascination with street food is only going to keep on driving forwards - and at pace.
Alex Jacobs
Founder - Newcastle Tour Company www.newcastletourcompany.com
"Experiential tourism and, thus experiences, are totally on-trend, and our street food tour delivers on just that. "We take foodies to some hidden gems of local and world foods - all with their own unique story to tell!"
Councillor,
Alan Marshall

Cabinet member for economy - Darlington Borough Council "The market hall has a proud place in Darlington's heart, but it has changed throughout its history to keep up with trends and the needs of customers and traders.

"This upgrade is no different, the market needs to be brought into the 21st century and reflect modern retail offers and the move towards dining and leisure as a focus for many people visiting our town centre."