Teeva launches UK-produced hydrogen fuel cell-supported HGV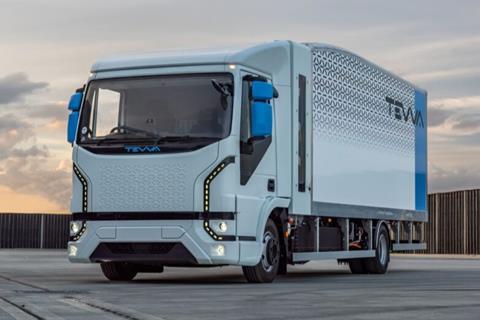 Electric and hydrogen truck pioneer Tevva has launched the first hydrogen fuel cell-supported heavy goods vehicle (HGV) to be manufactured, designed and mass produced in the UK. The Tilbury-headquartered scale-up, which has so far raised £140m in funding, will unveil its hydrogen electric vehicle alongside its latest full-battery electric HGV at the Road Transport Expo in Warwickshire.
By adding a hydrogen fuel cell system to its battery-electric HGV design, Tevva says it is delivering zero-emission solutions that will work for the overwhelming majority of fleet operators across a range of industries and sectors. The fuel cell system tops up the battery, extending the vehicle's range and allowing the truck to carry heavier loads over longer distances. One advantage of using the fuel cell as a range extender, rather than the primary source of power, is that it allows Tevva to provide smaller, cheaper and lighter fuel cells and operate these at the highest possible efficiency.
Tevva CEO and founder Asher Bennett said: "We are excited to launch our hydrogen electric HGV, creating a landmark moment for Tevva and UK manufacturing. We firmly believe that the post-fossil fuel future, which is quickly approaching, will see a new range of technologies and fuels take centre stage in the transport industry. "By embracing hydrogen, we are futureproofing ourselves, our clients and the industries and communities they operate in.
We also pride ourselves on the fact that our vehicles are safe, reliable and go the distance. Combined with our commitment to customer service, we believe that Tevva's hydrogen electric truck will be a popular choice for fleet operators across the UK, Europe and eventually North America. "I am extremely proud of the hard work the team at Tevva have put into this vehicle.
We have reached this milestone by leveraging our years of experience designing, innovating and manufacturing dual-energy vehicles." Zoe Hall, head of competitions and projects at the Advanced Propulsion Centre, said: "I am very proud that the technology we have supported through our collaborative research and development programme is now being put to real-world use. The launch of this truck, with its hydrogen fuel cell range extender, is an exciting outcome of the APC-funded project to completely eliminate CO2 at the tailpipe and lower the total cost of ownership compared to existing diesel vehicles.
This smart zero-emission vehicle, with rare earth metal free electric motors, has the potential to make heavy goods transport sustainable." Ben Nyland, Loop Energy President & CEO, said: "We are extremely happy to provide our fuel cell system to power the revolutionary zero-emissions truck Tevva is bringing to market. From the tender process through to the integration of the first vehicles, we have been consistently impressed with the vision and execution of the entire Tevva team.
"Trucks like Tevva's hydrogen-electric platform will be critical to achieving the emissions reduction targets necessary to address climate change. Their commitment to scale quickly reflects the sense of urgency with which the transportation industry needs to approach the deployment of zero-emission commercial vehicles. "We believe the combination of Tevva's proven range-extended platform with Loop Energy's leading fuel cell system can be a key contributor to the decarbonization of transportation in Europe and North America.
We look forward to a very fruitful relationship over the coming years."