Mercedes unveils its longest-range electric lorry to date
Mercedes-Benz Trucks has unveiled its longest-range lorry so far, the eActros LongHaul, with 600kWh of battery capacity and a range of up to 310 miles. Revealed at the IAA Transportation event in Hannover, Germany, the Mercedes eActros LongHaul will eventually form part of Daimler Truck's extensive portfolio of electric commercial vehicles -- a portfolio that already includes buses, light-duty vehicles such as the Fuso eCanter, some Freightliner-branded lorries in the United States and other Mercedes-branded battery-electric lorries including a shorter-range version of the eActros. Powering the eActros LongHaul is a trio of battery packs adding up to "over 600kWh" of capacity that will, according to Mercedes, deliver "around 500km" (310 miles) of range from a single charge.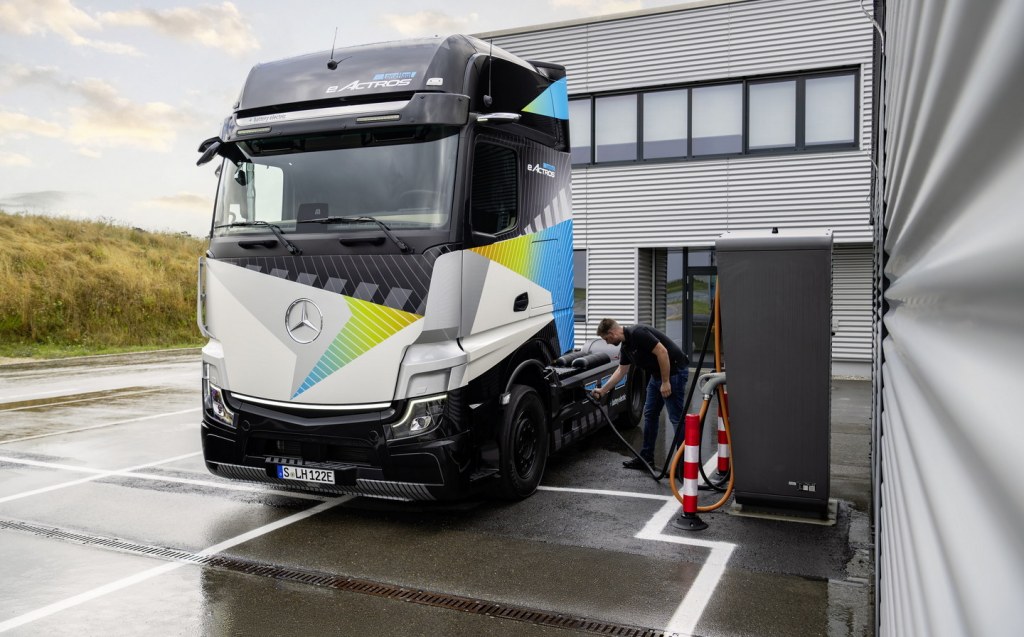 That power is sent to a dual-motor "e-axle" that can deliver a continuous 400kW (536bhp) of power to the wheels or a peak of 600kW (805bhp) when more acceleration is needed, such as during an overtaking manoeuvre when hauling a full load.
Charging the LongHaul's massive battery pack from 20% to 80% capacity will be possible in "well under 30 minutes" says Mercedes, though a 50kW DC charger won't do the trick -- to achieve that kind of performance will require a charging point with an output of "about one megawatt". The fastest public chargers in the UK currently offer less than half that, suggesting truckers will need specialist chargers along key arterial routes to keep their rigs moving. The battery pack employs well-proven lithium iron phosphate (LFP) cell technology, which, though not quite as cutting-edge as some types of battery technology, is engineered with longevity in mind.
Mercedes said it expects the operational life of the LongHaul to last for more than 10 years or 750,000 miles. The LongHaul provides a preview of Mercedes' design language for its future electric lorries, with its smooth, largely unobstructed lines (for greater aerodynamic efficiency and range) and strip of LED lighting across the front end, perhaps owing something to Mercedes' EQ series of electric cars.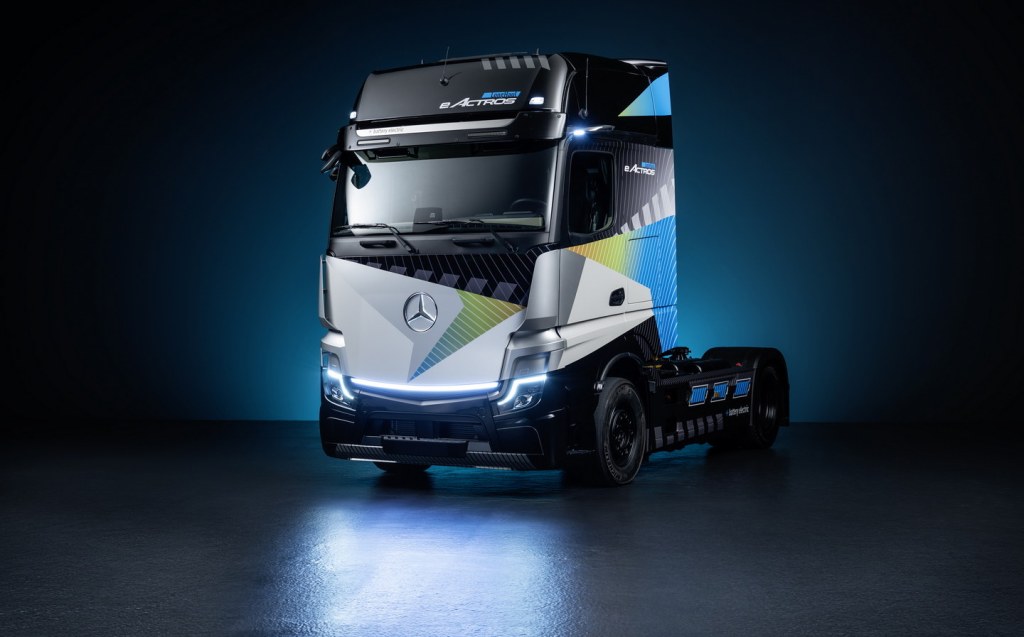 "Near-production prototypes" of the LongHaul are currently undergoing testing and a number of the prototypes will be loaned to customers in 2023 to test the real-world performance of the lorry before a planned commencement of production of both tractor-unit and rigid versions in 2024. The LongHaul will likely represent a competitor to Tesla's planned Semi truck, which is presently slated to begin deliveries in 2023, though with production of the 500-mile-range Semi having been pushed back several times already, it's entirely possible that the eActros LongHaul may see volume production first.
Another eActros variant, also on display in Hannover, is the eActros 300. It has a shorter range than the LongHaul, at 137 miles, and is expected to go into production next year.
Developing alternative fuels for good vehicles
At a time of inflated energy prices and alarmingly high fuels bills, alternative sources of power are clearly on the minds of commercial vehicle operators across the world, something reflected by quite a lot of the technology on display at the IAA conference. Italian manufacturer Iveco, has, for example, revealed a new pure-electric version of its workhorse, the Daily, the range of which varies depending on how many modular battery packs are optioned.
Another variant of the Iveco Daily unveiled in Hannover is the Daily FCEV, a hydrogen fuel-cell-powered version developed in partnership with Hyundai, using a 90kW hydrogen fuel cell system in conjunction with a 140kW electric motor. While the battery-electric Daily is best-suited to short-range delivery runs, the Daily FCEV, its manufacturer says, is more adept when it comes to longer distances.
Also making an appearance at the IAA event is the UK firm Tevva, which unveiled its new 19-ton medium-duty hydrogen-electric truck. The Hannover event marked the Essex-based Tevva's launch into the continental European market, and the firm says that UK production has already begun on European-market lorries for customers in Spain and Italy.
It also has plans for another factory in mainland Europe to work alongside the UK plant, to build lorries for customers in Germany, France, Spain, Italy and Benelux, followed by the rest of Europe, North America and the Middle East.
Related articles
Latest articles