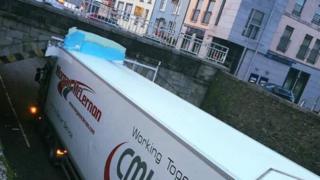 A low bridge in Banbridge, County Down, has been hit by a vehicle for the fourth time in less than a year.
It happened as the lorry drove under a 19th Century stone bridge in the town centre, known as The Cut, at about 21:25 BST on Tuesday.
The lorry appears to have some damage to its roof. The road under The Cut – Bridge Street – was closed for a short time, but no injuries were reported.
The last incident happened in May.
In November a prison service van[1] hit the bridge and lost its roof.
The following day a second lorry became stuck under the bridge[2].
At the time, officers used the image as a warning to drivers of other high-sided vehicles, advising them to know the height and dimensions of their lorries before passing under bridges.